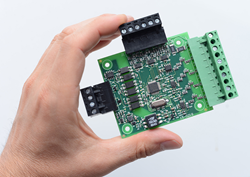 Revenue-Grade monitoring of PV production and load can be designed for your needs, be inexpensive, and NOW in the palm of your hand.
Boulder, Colorado (PRWEB) September 09, 2015
Continental Control Systems announced today that it will introduce their new compact OEM revenue-grade PV Meter Module. "Meter on a Board"™ features an innovative compact single board design (measuring 2.75" x 2.5") that can accommodate either a single or three phase service with either board-mounted or externally mounted CT's.
Continuing the quality and value that Continental Control Systems is known for, the module has the full functionality of a traditional meter in a smaller package without the AC power supply.
The meter's compact design significantly reduces the time for factory integration into an inverter or gateway, and is a fraction of the cost of standard meters, which may very well be disruptive to all meters used in PV installations.
With many options available, such as conformal coating, C12.20 certification, enclosure options, board mounted CT's, DIN rail and environmental requirements, the "Meter on a Board can be designed as a proprietary revenue-grade PV meter module for OEM manufacturers.
About Continental Control Systems
Founded in 1995, Colorado-based Continental Control Systems specializes in electric power metering and monitoring equipment for the measurement of energy and power production and consumption. The company's solutions are designed to provide information on electrical systems in a variety of communication protocols including Pulse, Modbus, BACnet, and LonWorks. Applications for the WattNode® meter include building automation, LEED certification, tenant submetering, performance verification/evaluation/diagnostics, and energy management. Continental Control Systems products are listed or recognized by Underwriters Laboratories Inc. with a safety certification for use in both the United States and Canada (cUL).
All trademarks appearing herein are the property of their respective owners.