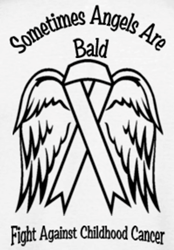 No parent should ever see their child hurt or suffering, and I want to let these young cancer patients and their families know we care about them and we want a cure
Sheridan, Indiana. (PRWEB) September 02, 2015
Gates To Gifts owner Todd Lewis has set a goal of selling 1 million t-shirts in September to help fight childhood cancer. Through the "Sometimes Angels Are Bald" t-shirt campaign, 50% of all proceeds will be donated to Alex's Lemonade Stand, a foundation that funds research, travel expenses for cancer patients and their families, and childhood cancer awareness campaigns.
Alex's Lemonade Stand was founded in honor of Alexandra "Alex" Scott, a little girl diagnosed with cancer at age 1. At age 4, Alex told her parents she wanted to set up a front-yard lemonade stand to raise money to help doctors find a cure. Alex raised $2,000 in her first day, and continued to set up her lemonade stand every summer as she continued her own cancer treatments. Sadly, Alex lost her battle with cancer at the age of 8, but her parents were determined to honor her memory by continuing the brave little girl's efforts through the foundation.
The "Sometimes Angels Are Bald" t-shirts will be on sale from September 1-30. By purchasing a $20 t-shirt, supporters will automatically be entered into a drawing to win a seven-day cruise vacation to Hawaii. Please visit http://www.sometimesangelsarebald.com for details.
"As a father of two, I can only imagine the pain experienced by Alex and the heartache her parents endured watching her fight cancer," said Lewis. "No parent should ever see their child hurt or suffering, and I want to let these young cancer patients and their families know we care about them and we want a cure."
The causes of childhood cancers are largely unknown, yet less than 5 percent of the federal government's total funding for cancer research is dedicated to childhood cancer research. Gates to Gifts hopes to boost this severely underfunded research through the campaign.
About Gates To Gifts, LLC
Gates to Gifts is an online retailer focused on helping schools, non-profits and churches raise money for charitable causes. Gates To Gifts' online shop has a wide variety of home and garden décor, furniture, and much more.
Related Links:
http://www.alexslemonade.org/
http://gatestogifts.com/
http://www.sometimesangelsarebald.com
https://www.facebook.com/Sometimesangelsarebald