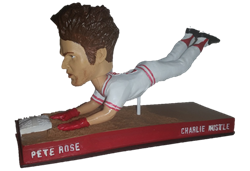 "I love the bobblehead because it reminds me of the way I played. It really looks like me. I think it's the best bobblehead ever made because it's an action bobblehead."
Milwaukee, Wisconsin (PRWEB) September 02, 2015
Today, the National Bobblehead Hall of Fame and Museum and Pete Rose unveiled a brand new, limited edition Pete Rose bobblehead, which features Pete making his signature head first slide. Only 1,000 of the bobbleheads have been produced, and each bobblehead is individually numbered.
According to Pete, "I love the bobblehead because it reminds me of the way I played. It really looks like me. I think it's the best bobblehead ever made because it's an action bobblehead."
"As a baseball fan, it was an honor to create a bobblehead of one of the greatest players ever to play the game. We wanted to create a bobblehead that showcased Pete's grit and determination, and the details in this bobblehead capture those characteristics that the one-and-only Charlie Hustle exhibited on the baseball field." said Phil Sklar, Co-Founder and CEO of the National Bobblehead Hall of Fame and Museum. "Fans have convincingly indicated in online voting that Pete's bobblehead should be the first inducted into the National Bobblehead Hall of Fame and Museum, and we're looking forward to opening next year to showcase this bobblehead as well as thousands of others from all genres."
"This will be a great keepsake for all of the Pete Rose and baseball fans out there, regardless of whether this is their first or tenth Pete Rose bobblehead," said National Bobblehead Hall of Fame and Museum Co-Founder and President, Brad Novak. "We were excited to have the opportunity to work with Pete to create a modern bobblehead featuring his iconic head-first slide."
Unsigned bobbleheads are now available at http://www.BobbleheadHall.com/shop, with autographed bobbleheads available through http://www.PeteRose.com and at public autograph signings. For a calendar of autograph signings, visit http://www.PeteRose.com/calendar. The bobbleheads are in stock now.
About Pete Rose:
Pete Rose, nicknamed "Charlie Hustle", is the all-time leader in career hits with 4,256 in addition to being a 17 time All-Star. During his career, Rose was noted for his all-around ability and enthusiasm and was revered for his aggressive base-running style, which included his distinctive head-first slides. He was named Player of the Decade (1970–79) by The Sporting News and chosen as a Franchise Four, a vote by fans to select the four most impactful players from each team. Rose was named NL Rookie of the Year in 1963 and led the league in batting in 1968 and 1969. He was named the NL's Most Valuable Player in 1973 and was an integral part of the famed "Big Red Machine," the Reds teams that from 1970 to 1976 won five division titles, four NL pennants, and World Series championships in 1975 and 1976. Rose still holds over a dozen Major and National League records.
About the National Bobblehead Hall of Fame and Museum:
The National Bobblehead Hall of Fame and Museum is headquartered in Milwaukee, Wisconsin, and will feature the world's largest collection of bobbleheads and bobblehead-related exhibits when it opens in 2016. The Hall of Fame and Museum also designs, produces and markets a wide variety of bobbleheads. More information is available at http://www.BobbleheadHall.com.