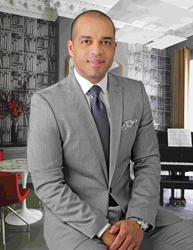 Bergen County/Hudson County, NJ (PRWEB) September 02, 2015
Juan Rivera, a licensed real estate agent in the Bergen and Hudson counties, New Jersey, market, has joined the prestigious Haute Living Real Estate Network.
The Haute Living Real Estate Network (HLRN) of Hauteresidence.com is proud to recognize Juan Rivera as a prominent real estate professional and the network's newest partner. HLRN unites a distinguished collective of leading real estate agents and brokers, highlighting the most extravagant properties in leading markets around the globe for affluent buyers, sellers and real estate enthusiasts.
About Juan Rivera:
As the branch vice-president of one of the leading luxury real estate offices in northern New Jersey, Juan Rivera leads some of the most experienced luxury specialists in the area. His team of professionals have an outstanding reputation of providing expert guidance, superior individualized service, and the focused attention to detail that every elite client deserves and has come to expect.
Through the Coldwell Banker Previews International luxury division, Juan and his team can offer an essential component to the sale or purchase of an exquisite and unique property–a component that allows a customized and comprehensive proposal that details the fundamental strategies that will be utilized to assist you in finding the perfect home or marketing your home to the most qualified buyers worldwide.
We trust you will discover that Juan and his team offer one of the world's most comprehensive and sophisticated luxury home buying or selling experience. We welcome the opportunity to place an international spotlight on your home and we look forward to working with you.
To learn more, visit Juan Rivera's Haute Residence profile: http://www.hauteresidence.com/member/juan-rivera
About Haute Living Real Estate Network (HLRN):
Haute Living Real Estate Network (HLRN) of Hauteresidence.com offers readers the most prominent directory of experienced realtors, brokers and luxury listings, and HLRN has grown to be the number one source for real estate news, residential developments, celebrity real estate news and more. Seeking an experienced interior designer? Hauteresidence.com is also home to Haute Design Network (HDN), a collective of celebrated interior designers that will help you decorate your new home or stage an active listing.
Access all of this information and more by visiting: http://www.hauteresidence.com