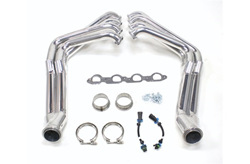 Tallmadge, Ohio (PRWEB) September 03, 2015
When Chevy put the Z06 badge on its sixth-generation Corvette, a brand new motor came with it. Dubbed the LS7, the 7.0L engine was rated at 505 horsepower and 475 lb.-ft. of torque. JBA Headers created a pair of Long Tube Headers to squeeze even more performance out of the Vette's LS7.
The stainless steel headers feature large diameter, mandrel-bent tubing to ensure unrestricted exhaust flow. Oversized exhaust ports promote more efficient cylinder evacuation. Exhaust gasses pass through the 1.875 inch primaries into JBA's patented Firecone collector. The headers' 4-2-1 design maximizes scavenging for greatly improved exhaust flow over stock.
JBA Headers designed these headers specifically for the 2006-13 Corvette equipped with an LS7. That means the headers will fit snugly under the hood, with no installation headaches or hurried fabrication. Each header boasts a beefy 3/8 inch thick flange, to resist warping and distortion.
PowerNation TV's Engine Power team installed a set of JBA Long Tube Headers in a Corvette Z06 during its "Hellion Mustang" episode.
JBA makes long tube headers for over two dozen vehicles, including:
2011-14 Ford Mustang 5.0L
2011-15 Dodge/Ram 5.7L
2005-14 Toyota Tundra 5.7L
CLICK HERE TO SEE A PAIR OF JBA LONG TUBE HEADERS ON EPISODE 17 OF POWERNATION TV'S ENGINE POWER.
CLICK HERE TO SEE ALL THE JBA LONG TUBE HEADERS AT SUMMIT RACING.