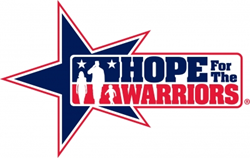 ANNANDALE, VA (PRWEB) September 03, 2015
Hope For The Warriors® is pleased to announce that the Spouse/Caregiver Scholarship applications are open for spring 2016. Scholarships are awarded two times each year to spouses or caregivers of post-9/11 wounded or fallen service members. Hope For The Warriors® is a national nonprofit dedicated to restoring a sense of self, restoring the family unit, and restoring hope for our service members and our military families.
The Spouse/Caregiver Scholarship Program identifies, recognizes, and rewards post-9/11 spouses and caregivers for their strength, fidelity, and resolve despite adversity. Scholarships aid in continued education at a reputable, accredited university, college, or trade school for spouses/caregivers as they assume critical roles in the financial well-being of their families. The scholarship program is just one part of the Career Transition & Education pillar supported by Hope For The Warriors®.
Two new scholarships have been added for spring 2016. The deadline to apply is October 16, 2015. Scholarship winners will be notified December 1, 2015 and announced on the scholarship website.
Hope For The Warriors® Career Transition & Education programs support the career and educational goals of the service member, veteran, and family members. The team works closely with employers to create program opportunities for service members and spouses as they prepare for their transition out of the military. Partnerships with universities are built to meet the needs of today's veteran college student. Program work is completed through intensive multi-day programs, one-day seminars, educational webinars, one-on-one mentoring, and more.
Biannual scholarships are awarded to both spouses and caregivers recognizing and supporting the new role shouldered within their families. Hope For The Warriors® has been giving scholarships to spouses and caregivers twice a year since 2008. Military spouses and caregivers are encouraged to apply by visiting http://www.hopeforthewarriors.org.
###
Hope For The Warriors® Mission Statement
We believe those touched by military service can succeed at home by restoring their sense of self, family, and hope. Nationally, Hope For The Warriors® provides comprehensive support programs for service members, veterans, and military families that are focused on transition, health and wellness, peer engagement, and connections to community resources.
Hope For The Warriors® has earned a Four-Star Rating from Charity Navigator (http://www.charitynavigator.org) for four consecutive years. Charity Navigator is an independent organization that evaluates fiscal responsibility and accountability of nonprofits.
Hope For The Warriors® (Federal Tax ID 20-5182295) is a 501(c)(3) tax-exempt charity as defined in sections 509(A)(1) and 170(B)(1)(A)(VI) of the Internal Revenue Code. Combined Federal Campaign, CFC #27800.