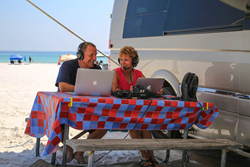 (PRWEB) September 05, 2015
In a little over 10 months, Roadtreking: The RV Podcast that features interviews, RV news, bucket list destination reports and tips and technology advice to enjoy the small motorhome lifestyle has just reached the coveted 1 million download mark.
Produced weekly by award-winning journalist Mike Wendland and his wife, Jennifer, the show began in October 2014 as an hour-long podcast available from iTunes, Stitcher and various online apps and services, as well as the Roadtreking.com RV Travel blog.
"Very, very few podcasts ever reach that 1 million downloads milestone," said Wendland. "And for those that do, it usually takes years. The fact that we hit that number in a little over 10 months shows just how much interest there is in RV travel and the small motorhome lifestyle."
Not all of the listeners are RVers, Wendland notes.
"We hear all the time from people who say they just want to listen to something that is positive and entertaining. People love hearing about the interesting people and places we visit, with no politics or bickering. People are too tired of bad news and they really seem to gravitate to contest that is essentially positive and entertaining."
For most of his professional career, Wendland was one of those hard-nosed investigative reporters, working for both major newspapers in Detroit, as well as the leading TV station. He also does a weekly tech report for all 215 NBC TV stations. He won numerous honors, including 18 EMMY awards for his reporting.
"They used to call me bad news Wendland," he says. "That was all I reported. And it took a toll. I became a real cynic. When I left daily journalism, I bought an RV and we started to travel as a way to decompress. Along the way, we discovered that all was not gloom and doom and, in fact, not people were quite happy and content and paid no mind at all to the negativity that pours out of the mainstream media."
So to share the interesting stories he kept encountering out on the road, he started the blog in 2012. It now has 350,000 readers a month. The podcast began last fall.
Each hour-long episode of the podcast features listener questions, RV News of the Week, a segment on Traveling Technology , an RV Event Calendar and off-the-beaten-path bucket list reports on the favorite travel destinations of RVers. The Wendlands produce the show from wherever they happen to be each week as they travel North America in a 2015 Roadtrek CS Adventurous XL that is outfitted with solar power and high tech, high efficiency Lithium Ion batteries.
"We can do the show from literally anywhere," he said. "We don't need shore power. Between solar and the lithium batteries, we are energy independent. So we've done the show from very remote places like mountaintops and the deep woods of national and state forests. Last week, we did the podcast right next to our Roadtrek, parked right on the beach of Florida's Emerald Coast."
The Wendlands also visit many RV shows. They are planning to visit the Hershey, PA show in two weeks and will do an episode of the podcast from there, as well as the National RV Show in Louisville, KY in December.
One of the reasons the podcast is successful, Wendland believes, is that RVers are on the road a lot. "Podcasts really help the miles go by," he said. "The entertainment systems on most newer RVs interface perfectly with smartphones and tablets and right from the podcasting apps, people can play the show as they travel. Podcasts and RVing are a perfect fit."