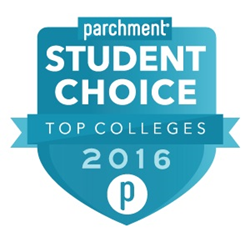 We are excited to release our fifth annual college rankings, revealing the choices of this generation of college-bound students.
Scottsdale, AZ (PRWEB) September 09, 2015
Each year, as high school students prepare for their college experience, they send multiple college applications and wait near their mailbox, or inbox, for those highly anticipated admissions decisions. Often times, students receive multiple acceptance letters and then must make the decision to select a specific school. What if a student's college choice was treated like a chess tournament and schools were ranked by the total number of matchups won against another school, as well as the ranking of the school they faced in the matchup? This is precisely what Parchment does every year.
Parchment, the industry leader in academic credentials management, has announced the results of the 5th Annual Parchment Student Choice College Rankings study, which compares more than 700 colleges and universities using the choices of more than 86,400 first-year college bound students who navigated 154,00 admissions acceptances, nationwide. Parchment's college rankings are unique as the only study that reveals college preferences and enrollment decisions as reported from actual college-bound students.
Interesting results surface each year as student's decisions change with various environmental factors. In the 2016 Parchment rankings, several liberal arts colleges were significantly higher choices, with Harvey Mudd College moving from 23 on last year's list to third this year. Swarthmore College, Pomona College and Bowdoin College were ranked 11th, 12th and 13th respectively by students focused on a liberal arts education. Military institutions were also on the move, including the United States Military Academy jumping 10 spots, from 16 to six, and the United States Naval Academy rising 17 positions, from 26 to nine.
For the third consecutive year, the 2016 Parchment Student Choice College Rankings reveals that Stanford University remains the top choice by students admitted to both Stanford and another institution. Unique to the 2016 rankings, Harvard dropped 39 spots, from the second spot last year to 41 on this year's list.
"We are excited to release our fifth annual college rankings, revealing the choices of this generation of college-bound students," said Parchment's Chief Executive Officer, Matthew Pittinsky, Ph.D. "We are focused on empowering learners and make our free college admissions tools available as an additional tool learners can employ as they begin their journey toward higher education."
Parchment's college rankings are pulled directly from students using the college admissions tools on Parchment.com. The Parchment website is a free, online resource helping students and parents research colleges, discover their chances of admissions and see how they stack up with their peers.
Employing an Elo Ratings System, where all colleges are classified as equals, Parchment's Student Choice College Rankings methodology puts schools in a head-to-head bracket, where they earn points based on a student's attendance, or lose points if they are not selected in the matchup. Parchment then takes into account a college's ranking, awarding more points for colleges that are chosen unexpectedly and fewer points for those schools that would be considered predictable picks. At the end of each school year, Parchment then reviews the total points each school has earned to arrive at its rankings for the following year. Schools were eligible for the 2016 Student Choice College Ranking when they had 50 or more matchups all time.
In 2015, students reported a total of 54,300 school-to-school matchups, further growing the five-year total matchups to 198,600. The 2016 rankings included schools that had a minimum 50 matchups all-time.
The Top 25 Student Choice Colleges for 2016 include (ranking from prior year in parenthesis)
1. Stanford University (1)
2. Massachusetts Institute of Technology (2)
3. Harvey Mudd College (23)
4. Duke University (10)
5. Yale University (4)
6. United States Military Academy (16)
7. University of Pennsylvania (tied for 7)
8. University of Chicago (12)
9. United States Naval Academy (26)
10. University of Waterloo (unranked)
11. Swarthmore College (21)
12. Pomona College (17)
13. Bowdoin College (11)
14. Caltech (6)
15. Brown University (14)
16. University of Toronto (unranked)
17. Princeton University (5)
18. University of Notre Dame (32)
19. University of California, Berkeley (19)
20. McGill University (unranked)
21. Williams College 20)
22. University of California, Los Angeles (25)
23. Columbia University in the City of New York (12)
24. Barnard College (unranked)
25. Haverford College (18)
For more information about Parchment or to view the complete 2016 Parchment Student Choice Rankings, please visit http://www.parchment.com/c/college/college-rankings.php.
About Parchment
Parchment is the most advanced academic credential management system available, allowing learners, academic institutions, and employers to request, verify, and share credentials in simple and secure ways. The platform has helped millions of people and thousands of schools and universities exchange more than 20 million transcripts and other credentials globally. Founded in 2003, Parchment Inc. is headquartered in Scottsdale, AZ, with offices in Roseville, CA, Denver, CO, Grand Rapids, MI, Toronto, ON and Washington, DC. Follow Parchment on Twitter, Facebook and LinkedIn.