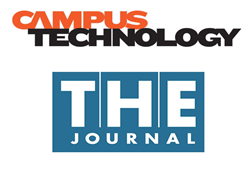 We are so excited to be partnering with Campus Technology and THE Journal to bring a 3D printer to a deserving classroom.
Vienna, VA (PRWEB) September 09, 2015
THE Journal and Campus Technology are excited to announce their partnership with Stratasys in hosting a nationwide 3D Printer Contest for Higher Education and K-12 campuses.
In order to win a Stratasys Mojo 3D printer for their campus and a $5,000 grant, entrants will be asked the question, "What would a 3-D Printer Mean to your School?"
"THE Journal is thrilled to be partnering with Stratasys for this contest," said David Nagel, Editorial Director, Education for 1105 Public Sector Media Group, "Whether in art, science or ELA, 3D printing is a technology that can make students' ideas into realities, and that is a powerful tool for education."
By bringing 3D printing into the classroom, educators have the ability to challenge their students with exciting learning opportunities in school while also preparing them for bright careers in the future.
3D printing technology is transforming classrooms everywhere. This advanced technology is fueling limitless creativity as students get to see, hold, and test their ideas in real space.
"As a multi-disciplinary learning tool, 3D printing has made an incredible impact on higher education, engaging students and providing hands-on skills and experiences," said Rhea Kelly, Executive Editor of Campus Technology. "Campus Technology is pleased to partner with Stratasys to help bring this powerful technology to a deserving campus."
To enter, participants must submit a 500 word essay explaining, "What would a 3D printer mean to your campus?" by November 30, 2015. Complete entries will be reviewed and a winner will be chosen by contest sponsor, Stratasys.
"When classrooms add 3D Printing to their learning environment, innovation comes to life. The ability to turn your ideas into a physical model allows for a student to truly evaluate and make design iterations. True project-based learning and applied knowledge at a younger age is impacting students' interest in the STEM fields and that is a highly desired outcome," said Jesse Roitenberg, North American Education Manager at Stratasys, "We are so excited to be partnering with Campus Technology and THE Journal to bring a 3D printer to a deserving classroom."
For more contest details and to enter to win, visit http://thejournal.com/pages/stratasys-3d-printer-contest or http://campustechnology.com/pages/stratasys-3d-printer-contest.
About 1105 Media, Inc.
1105 Media, Inc., is a leading provider of integrated information and media in targeted business-to-business markets, including the public sector (FED/SLED) information technology community; enterprise computing; industrial health, safety, and compliance; security; environmental protection; and home healthcare. 1105's offerings span marketing services; print and online magazines, journals, and newsletters; seminars, conferences, and trade shows; training courseware; web-based services. 1105 Media is based in Chatsworth, CA, with offices throughout the United States. https://1105media.com