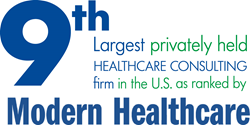 Being recognized by an organization of Modern Healthcare's prominence is a true honor. It speaks to the level of skill and dedication with which PYA employees perform
Knoxville, TN (PRWEB) September 09, 2015
PYA is now among the nation's Top Ten largest privately owned healthcare management consulting firms as reported by Modern Healthcare; PYA ranks 9th in 2015, climbing from the 12th position in 2014.
PYA has consistently been in the Top 25 since Modern Healthcare, a leading provider of healthcare business and policy news, began its rankings in 2006. In the latest listing, based on 2014 data, PYA is 17th among the largest public and private consulting companies in the U.S., up from 21st in 2014.
"Being recognized by an organization of Modern Healthcare's prominence is a true honor. It speaks to the level of skill and dedication with which PYA employees perform," said Firm CEO Ed Pershing. "It is that steadfast determination to drive true, sustainable value for our clients that enables PYA to continue to achieve this honor. Our aim is to fully deploy our professionals and thoughtfully integrated expert teams to help our client partners make better decisions, remain compliant, be more effectively organized, grow, and prosper."
PYA has more than 300 employees in its Atlanta, Kansas City, Knoxville, Nashville, and Tampa offices and its five affiliate companies.
--------
About PYA
For over three decades, Pershing Yoakley & Associates (PYA), a national professional services firm providing management consulting and accounting has helped its clients navigate and derive value amid complex challenges related to regulatory compliance, mergers and acquisitions, governance, business valuations and fair market value assessments, multi-unit business and clinical integrations, best practices, tax and assurance, business analysis, and operations optimization.
Founded in 1983, PYA's steadfast commitment to an unwavering client-centric culture has served the firm's clients well. PYA is now ranked by Modern Healthcare as the 9th largest privately owned healthcare consulting firm in the US. PYA is also ranked 103rd by INSIDE Public Accounting's "Top 200" Largest Accounting Firms. PYA affiliate companies offer clients world-class data analytics, professional real estate development and advisory resources, self-insured employer health insurance claims audits for Fortune 500 companies, wealth management and retirement plan administration, and business transitions consulting.
PYA is headquartered in Knoxville, Tennessee. For more information, please visit http://www.pyapc.com/