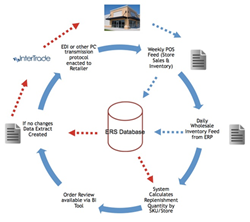 We strive to reduce human intervention from the planning process to improve productivity and accuracy -Jim Lewis, Founder and CEO of Enhanced Retail Solutions
New York, NY (PRWEB) September 15, 2015
Enhanced Retail Solutions (ERS), a leading provider of Software-as-a-Service (SaaS) retail analytic and demand planning solutions to suppliers, licensors and their retail trading partners, announces major enhancements to its multi- variable Retail Replenishment/Allocation Software module.
ERS has offered replenishment software that is equally applicable for retailers with a few stores or hundreds or thousands of locations. It also is applicable for manufacturers who help their retail partners with allocation or replenishment. The module accounts for seasonality, promotions or other trends and even adjusts quantities based upon space constraints and priorities users give to individual store locations. Replenishment can set up to run automatically at night.
A breakthrough feature has been added to reduce the users' need to interact with the replenishment software. ERS works with its clients to understand the parameters needed to effectively stay in stock. Those requirements are then built into the software as business rules. If the planners are too busy, on vacation or undergo turnover, the software continues to suggest reorder quantities. If the users/management do not edit those quantities, they are executed.
ERS has expanded the output options from text or Excel to include POS systems such as Retail Pro, Walmart/Sam's Club SSO's and Reverse PO's.
"We strive to reduce human intervention from the planning process to improve productivity and accuracy," said Jim Lewis, Founder and CEO of Enhanced Retail Solutions. "After all, why rely on software if the process is still manual?"
About Enhanced Retail Solutions LLC:
Enhanced Retail Solutions is a software and consulting firm specializing in Retail Analysis and Demand Planning for manufacturers, licensors and their retail partners. ERS' state of the art software tools and consulting deliver critical data quickly, easily and cost effectively, adding over one hundred million dollars to their clients' bottom line. ERS' broad customer base includes industry leaders in the electronics, consumer products, apparel, footwear, home textile, toy, home décor, home improvement, housewares, jewelry and food industries. Headquartered in New York City, Enhanced Retail Solutions has offices in the Dallas, TX and development in the US, Cork, Ireland and Delhi, India. For more information, visit http://www.EnhancedRetailSolutions.com.