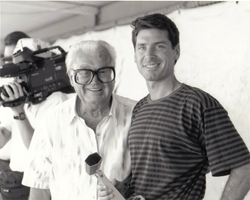 "The song sort of took a divine path to being created, with the help of several musical genius talents, and the spirit of Harry Caray through one of his conduits to the fans—the mic Harry used to sing Take Me Out to the Ball Game,"
Chicago, Illinois (PRWEB) September 10, 2015
An upcoming documentary film featuring Chicago Cubs announcer, Tim Sheridan, has launched a crowd-funding campaign on Indiegogo, the film's producers announced today. The film, Public Address - A Thirty Year Journey with the Chicago Cubs, is based on Sheridan's long career with the Cubs. The film tells the story that Sheridan has experienced over his lifetime with the Cubs, using extensive behind the scenes footage that has never been seen, as well as a new Cubs song, Clear the Way, which was inspired by the 7th Inning Stretch singing of legendary Cubs announcer Harry Caray.
"This film is about the Cubs and their journey through three decades that changed America, and the game itself," said Sheridan. "It also tells the story of the passion that a unique ball club inspires in both its players and fans."
Sheridan has been the Cubs Spring Training Public Address Announcer for the past thirty-two years. From his first day on the job, sitting next to Caray in the press box, he started filming and documenting. The film includes many of Sheridan's recollections of working with Caray as well as the changing face of the Cubs. Using archival footage and photos, the film shows the audience memorable moments with everyone from Ryne Sandberg to Kris Bryant. Public Address has been Sheridan's vision and passion for a long time.
Music is currently the focus of the production. Through a collaboration with Dango Rose, from the band Elephant Revival, as Music Supervisor, the film now has a new rock anthem for the Cubs. Clear the Way was partly recorded on the actual microphone that Caray used for many years to lead the 7th inning stretch. "The song sort of took a divine path to being created, with the help of several musical genius talents, and the spirit of Harry Caray through one of his conduits to the fans—the mic Harry used to sing Take Me Out to the Ball Game," Sheridan added.
Currently Clear the Way is only available at Indiegogo for a small $5 donation to the documentary film. The Indiegogo campaign aims to raise funds to complete production for the film's music. For more information, visit Indiegogo link:
http://igg.me/at/PublicAddress/x/11926860
To schedule an interview or talk with Tim, please call Theresa Ryan at 480-766-1685
END
# # #