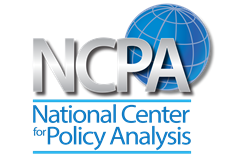 Inflation, the diversion of funds to nonhighway programs and poor government policies, and constant overspending by the Highway Trust Fund have resulted in a $1 billion deficit in 2015 alone
(PRWEB) September 09, 2015
The federal Highway Trust Fund is running on fumes, and lawmakers should consider serious reforms ahead of this fall's Congressional debate on transportation funding, cautions a new report from National Center for Policy Analysis Senior Research Fellow Lloyd Bentsen IV.
"Inflation, the diversion of funds to nonhighway programs and poor government policies, and constant overspending by the Highway Trust Fund have resulted in a $1 billion deficit in 2015 alone," says Bentsen. "Current gas and other fuel taxes are failing to provide adequate funding for the Highway Transportation Fund."
In order to get the federal gas tax working efficiently again, lawmakers should consider:
-- Eliminating the Mass Transit Fund and all other nonhighway funding through the Department of Transportation, saving $16 billion annually for additional highway funding.
-- Raising the federal gas tax to compensate for inflation since it was last raised in 1993, and thereafter adjusting for future inflation, would bring in 40 percent more, or $10 billion a year.
-- Repealing the Davis-Bacon Act, saving $11 billion annually in construction costs.
"The previous failures of the federal government to manage fuel taxes leave two major choices: to dramatically reform and amend the way highways are funded, or to eliminate the federal gas tax and leave the stewardship of the interstate system to the states," says Bentsen.
Out of Gas: The Highway Trust Fund: http://www.ncpa.org/pub/out-of-gas-the-highway-trust-fund
The National Center for Policy Analysis (NCPA) is a nonprofit, nonpartisan public policy research organization, established in 1983. We bring together the best and brightest minds to tackle the country's most difficult public policy problems — in health care, taxes, retirement, education, energy and the environment. Visit our website today for more information.