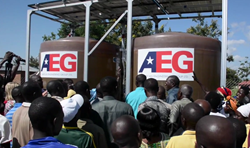 AEG is very excited to be in Africa 'doing well while doing good'
Charlotte, NC (PRWEB) September 15, 2015
American Engineering Group (AEG) is one of more than 100 U.S. companies heading to Africa for the U.S. Department of Commerce-led Trade Winds—Africa trade mission and business forum. Trade Winds—Africa is the largest-ever U.S. government-led trade mission to Africa.
"Africa presents an incredible opportunity for global U.S. companies," said Regional Senior U.S. Commercial Officer Donald Nay, the highest-ranking commercial diplomat in Sub-Saharan Africa. "We are excited to bring these companies to the continent, connect them to promising opportunities, and get them on the right path to success."
Trade Winds is a business forum and series of business-to-business meetings in Johannesburg, South Africa. AEG, a company that designs and manufactures the highest quality solar and water purification products and solutions, hopes that they can use their technology and expertise to improve the quality of life for millions of Africans.
"AEG is very excited to be in Africa 'doing well while doing good'" said Tod Skinner, President of AEG. "Our customers get the highest quality, American made products that improve lives and businesses. We are pleased to participate in Trade Winds Africa in hopes of expanding our initial successes to other countries on the continent."
Sub-Saharan Africa is a promising market for U.S. exporters. It is home to six of the ten fastest-growing economies in the world and has a rapidly growing middle class.
Trade Winds is an important part of the United States' Doing Business in Africa campaign, for which the government has committed billions of dollars to development initiatives in Africa, and has facilitated billions more in U.S.-Africa business deals.