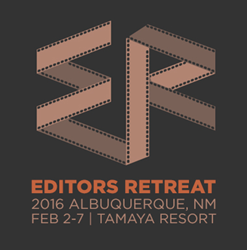 Editors Retreat gives you the opportunity to rub elbows with seasoned professionals and heavy hitters and develop a camaraderie with them that would be virtually impossible to achieve in the real world. - Simon Rex-Lear, Producer/Director, Lockheed Martin
New York, NY (PRWEB) September 11, 2015
Future Media Concepts, the nation's leading training provider and conference organizer in the digital media industry, is pleased to announce the 10th Annual Editors Retreat. The conference will take place in Albuquerque, New Mexico, on February 2-7, 2016.
Produced in collaboration with the National Association of Broadcasters (NAB), Editors Retreat has built a decade-long reputation as a unique industry event. The conference is all about learning how to be the best at your craft, and it offers advanced training for a small group of TV, film and video editors who's work and experience level have been vetted prior to registration.
"Editors Retreat gives you the opportunity to rub elbows with seasoned professionals and heavy hitters and develop a camaraderie with them that would be virtually impossible to achieve in the real world" said Simon Rex-Lear, Producer/Director, Lockheed Martin Aeronautics Company, about his first Editors Retreat in 2015.
Past Editors Retreat keynote speakers include: William Goldenberg, Oscar-winning editor for Argo, and producer of Zero Dark Thirty; Arthur Schmidt, two-time Academy Award Winner for Best Film Editing for Who Framed Roger Rabbit and Forrest Gump; Christopher Nelson, Emmy-nominated editor of the hit series LOST and Mad Men; and Sally Menke, Oscar nominated editor for Pulp Fiction and Kill Bill.
"We pride ourselves on delivering an unparalleled experience. This is a small group of highly skilled individuals, by application only, who get the chance to interact with each other and with celebrated industry names in a very friendly and intimate setting. In designing this program, we always look for ways to challenge the attendees and make sure they gain new valuable skills and perspective, not only technical, but creative skills as well," said Ben Kozuch, President and Co-founder of Future Media Concepts.
Many of our attendees have returned over the years to find the same incredible experience every time: advanced training sessions, great social events and great company.
This time, Editors Retreat is gathering at The Hyatt Regency Tamaya Resort & Spa. Retreat attendees will enjoy pueblo-style guest rooms and suites, sparkling pools and breathtaking views of the mountains. The resort offers horseback riding, golf, hiking and several fitness trails.
If you would like to apply for the 2016 Editors Retreat, please visit our Application page: http://editorsretreat.com/application/.
For more information about the event, including schedule, speakers and sponsorship opportunities, please visit: http://editorsretreat.com.
###
About Future Media Concepts, Inc.
Established in 1994, Future Media Concepts (FMC) is the nation's premier digital media training organization providing manufacturer-authorized training in digital video and film editing, motion graphics, web design and development, sound design, 3D animation, desktop publishing, architectural and mechanical design, Mac IT, and mobile apps development.
Future Media Concepts is a leading producer of education-rich conferences, many of which take place at today's leading electronic entertainment trade shows. Some of our events include Adobe Video World and Post|Production World at NAB Show. For a complete list of conferences, visit fmctraining.com.