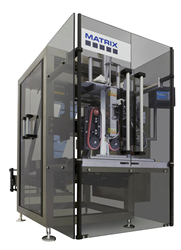 SAUKVILLE, Wis. (PRWEB) September 10, 2015
Matrix Packaging Machinery, powered by Pro Mach, showcases a new ultrasonic welding option for its Mercury HS vertical form fill seal machines for the first time at Pack Expo Las Vegas, September 28-30. Since ultrasonic welding uses low, localized heat it's ideal for frozen foods, produce, candy, dairy products such as cheeses, and other heat sensitive items. (Matrix Booth C-3323)
Ultrasonic welding applies precise ultra-high-speed vibrations along a seam. Friction along the edges of the internal layers of a bag generates heat, which melts and bonds the innermost layers. Ultrasonic welding is quick and precise, forming a high quality seal with superior mechanical strength. Less energy is consumed with ultrasonic than conventional sealing for lower operating costs. If the machine stops with the jaws on a bag, there is no risk of overheating.
In many applications throughput will be higher than ordinarily achieved, not only because the process is faster, but also because there is practically no dwell time required to cool the seam. High speed vibrations clear away or make irrelevant small particles of product adhering to the inside of the bag near the seam. Ultrasonic welding seals most multi-layer constructions, as well as polyethylene used for frozen food bags.
At start up, the first bags through are sealed properly, unlike heated clamping jaws, which may take a few cycles to achieve optimum temperature. Precision sealing also means less overall film consumption. Sealing jaws remain cool with less debris adhering to the surface of the jaws for more hygienic conditions. Operators can access the jaws quickly with no wait for cool down should maintenance become necessary.
The Mercury HS forms, fills, and seals bags with widths ranging from 1.75 to 11 inches (44 to 280 mm) and lengths from 2.5 to 15 inches (63.5 to 381 mm) at speeds of up to 140 bags per minute. Standard features include stainless steel construction, color touch screen operator panel, English/Spanish operator interface, and an Allen-Bradley MicroLogix PLC control system. Compared to other high speed machines, the Mercury has a small footprint, which helps to conserve valuable floor space.
Each Mercury HS offers a self-centering film drive down system, automatic edge guide film tracking, and short travel, angled incline film upwind, all of which contribute to precise film movement and trouble free operation. Tool-free quick-change core chucks help to ensure fast changeover between jobs.
Video and additional product details about the Mercury HS are available online as are the full range of Matrix vertical form fill seal, pre-made pouch, roll-stock pouch, and stickpack and sachet packaging machines at http://www.MatrixPM.com and at the Pack Expo Matrix Booth C-3323 or by calling Matrix at 888-628-7491.
About Matrix
Matrix Packaging Machinery is an industry-leading manufacturer known for vertical form-fill-seal, pre-made pouch, horizontal roll-stock pouch, and stickpack and sachet packaging machines. Since 1988 Matrix has built a solid reputation for delivering rugged, well-engineered, cost competitive, and easy-to-use packaging systems backed by outstanding customer support. Matrix solutions are in operation throughout the world, handling a wide range of products in very diverse conditions. http://www.MatrixPM.com
About Pro Mach
Pro Mach is a leading provider of integrated packaging and processing products and solutions for food, beverage, consumer goods, pharmaceutical, and other diverse companies. Through its brands, Pro Mach provides product packaging and processing equipment, PMMI certified training, installation, parts, and service in Bottling & Capping, Primary Packaging, Flexible Packaging, Material Handling, Labeling & Coding, and End of Line.
Pro Mach has a diverse customer base, from Fortune 500 companies to smaller, privately-held businesses worldwide, which depend on reliable, flexible, technologically advanced equipment and integrated solutions. Pro Mach is headquartered near Cincinnati, Ohio, with manufacturing facilities and offices throughout the United States, Canada, Mexico, and Europe. For more information about Pro Mach, visit http://www.ProMachInc.com.