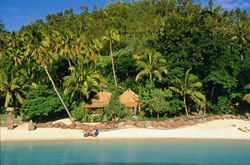 Turtle Island, Fiji (PRWEB) September 14, 2015
The Turtle Island experience has always been first and foremost about Fijian culture, and there is no better way to experience a place than to indulge in its local produce and traditional cuisines. With that in mind, each of the four guest chefs will utilize the abundant local seafood, meat, fruit and vegetables to create their own unique take on Fijian cuisine.
With a limit of just 14 couples on island at any one time, guests will be able to interact one-on-one with the chefs, participate in cooking classes and demos and of course indulge in their South Pacific-inspired dishes.
Schedule of Events and Chefs:
November 10 – 17:
Chef Carlos Cham, owner and chef at Carlito's Place in Pescadero, Baha California Sur
November 18 – 24:
Chef Sam Talbot, chef, author, philanthropist and TV personality based in Brooklyn, NY
November 27 – December 3:
Chef Jacques Reymond, renowned French-born chef who lives in Australia
December 4 – 10:
Chef Ari Taymor, owner and chef at the acclaimed Alma restaurant in Downtown Los Angeles
Classes, demonstrations and communal meals will take place in various locations around island, from the staff kitchen to the beach to the cliff-side outdoor dining venue. Guests will be encouraged to participate in as many food-related activities as they'd like, such as clam digging on nearby islands, fishing and of course gathering vegetables from the island's expansive gardens. In addition, private beach picnics, horseback riding, hiking, scuba diving and snorkeling are available to guests during their stay.
Space is limited during the guest chef month, and bookings must be made by October 3, 2015. Visit http://www.turtlefiji.com/savor-turtle-island.com for more details.
# # #
About Turtle Island
Located at one of the most stunning places on earth, Turtle Island in Fiji is the ultimate all-inclusive private island paradise. Turtle Island offers 14 private beaches, gourmet dining, a brand new spa, personal "bure mamas," top-shelf liquors, wines, and champagnes, world-class activities such as fishing, scuba diving, snorkeling and only 14 couples at a time. The recipient of numerous tourism and hospitality awards, Turtle Island is considered one of the most sought after destinations in the world. For more information go to http://www.turtlefiji.com or call 800-255-4347.