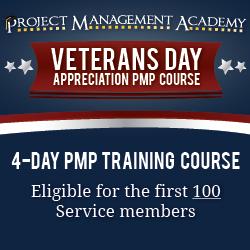 We want to take time to honor our country's veterans, as well as help all those interested in advancing their project management skills by earning their PMP certification
West Lafayette, IN (PRWEB) September 14, 2015
Project Management Academy® ("PMA"), a rapidly growing company specializing in project management training, is pleased to announce its 2nd annual Veterans Day Appreciation PMP Course. In an effort to recognize the U.S. military service members who have sacrificed enormously for the benefit of this great nation, PMA will offer a live PMP course delivered via webinar. Course dates are November 12-15, 2015. Cost of registration is $100, reduced from the regular price of $1895.
"We want to take time to honor our country's veterans, as well as help all those interested in advancing their project management skills by earning their PMP certification," stated John Smith, PMA's chief executive officer. "Our PMP training courses satisfy the 35 hours of project management training needed to sit for the certification exam, and the study resources we offer students assist them as they prepare. Our hope is that many veterans will take advantage of this opportunity to further develop the project management skills they've already gained from serving in the military."
The PMA Veterans Appreciation course is open to the first 100 eligible veterans who register. Service members with a DD214 or DDForm2 can sign up online at https://projectmanagementacademy.net/register/course-information.php?productid=18157.
All proceeds from this course will go toward a number of charities at PMA's designation, some of which include Homes for our Troops, Navy Seal Foundation and Wounded Warrior Project. For a complete list, please take a look here: http://projectmanagementacademy.net/pma-charitable-contributions.
To learn more about Project Management Academy and its course offerings, please visit http://www.projectmanagementacademy.net.
Project Management Academy® is the most trusted name in project management training, providing PMP, Agile, Six Sigma and PDU courses nationwide. Project Management Academy is a Registered Education Provider with the Project Management Institute®.
#########
Project Management Academy®, Club PDU®, Project Management Institute® and PMP® are registered trademarks in the United States.
For more information, press only:
Kristin Donaldson: 1 (877) 637 0450, PR(at)ProjectManagementAcademy(dot)Net
For web inquiries, please visit:
http://projectmanagementacademy.net