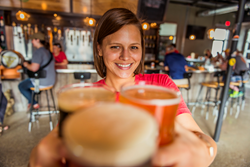 Our craft beer is natural, it's imaginative and it's surprising -- just like Traverse City itself.
Traverse City, MI (PRWEB) September 14, 2015
The third Traverse City Beer Week, scheduled for Nov. 13-20, promises to include a wide range of interesting and educational events hightlighting this Michigan resort town's famed craft brew industrry, says the area's destination marketing organization, Traverse City Tourism.
Traverse City Beer Week is a week-long parade of tastings, dinners, games, workshops and lectures devoted to the area's celebrated craft beer industry -- particularly the many microbreweries, brewpubs and craft beer taprooms in the Traverse City Area.
Organized by Traverse City Tourism and several area beer distributors -- Imperial Beverage, H. Cox & Son, Bayside Beverage and Griffin Beverage -- Traverse City Beer Week takes place in the community's restaurants, bars, microbreweries and retail outlets. Its object is to educate consumers about craft beers and ales while helping local brewers, restaurants and retailers get used to working more closely together.
"Craft beer is local," said Andrea Day of Imperial Beverage, which helped kickstart the original TCBW in 2013. "It's exciting, innovative and easy to get behind."
A small Lake Michigan resort community with slightly more than 15,000 residents, Traverse City is best known as a four-season outdoor adventure destination with a lively culinary and wine scene. More recently, however, it has emerged as a major center of craft brewing.
Ever since 2012, when Draft magazine named it one of Americas' three "emerging beer towns" and the Travel Channel listed it among the Top Seven Beer Destinations in North America, the town's beer scene has grown. Today it boasts nearly 20 craft breweries, brewpubs and taprooms, and Craftbeer.com calls it one of America's "Five Beeriest Beach Towns."
Last year, Traverse City Beer Week featured more than 60 events, each one developed jointly between brewers, restaurants and retailers to educate or offer insight into some aspect of the craft beer movement -- a special product or style of beer, a food-beer pairing experience or some other topic of interest. But that "educational" component doesn't obscure the fact that this is all intended to be fun.
Each TC Beer Week, for example, opens with an extensive Pub Crawl through the city's downtown sponsored by Short's Brewing, where participants carry "beer passports" that can be traded in when completed for an official Beer Week t-shirt. Recent years have featured such events as a beer-tasting/miniature-golf tournament and a 5K "Great Beerd Run" with on-course beer tastings and a post-race Best Beard Contest. Sandwiched in between are a multitude of beer dinners, first-time keg tappings, retail tastings, trivia contests, food pairings, panel discussions, tailgate parties, and even an after-dark scavenger-style "keg hunt."
Every event in Traverse City Beer Week must feature truly craft beer and include a presentation by the host brewery or brewery representative. That's one reason why Traverse City Tourism, the area's destination marketing organization, is acting as a promotional partner, said TCT president Brad Van Dommelen.
"Traverse City Beer Week has become a wonderful opportunity for Traverse City to promote its growing craft beer culture, and that's what is really at the heart of this event," said Van Dommelen. "Our craft beer is natural, it's imaginative and it's surprising -- just like Traverse City itself."