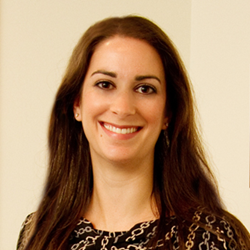 Doylestown, PA (PRWEB) September 15, 2015
Bucks County family law firm Williams Family Law, P.C. is pleased to announce that divorce attorney Elizabeth J. Fineman has been inducted as a member of Ten Leaders Under 45 of the Ten Leaders Cooperative.
The Ten Leaders Cooperative was founded in 2002 as a long-term presentation of experienced and qualified professionals in medicine, the law, finance, architecture and technology. The program recognizes successful professionals who have been recommended by their peers for inclusion.
A senior associate at Williams Family Law, Fineman concentrates her practice on domestic relations matters, including divorce, child support, alimony and spousal support, marital taxation, equitable distribution and child custody. With an LLM in taxation from Temple University Beasley School of Law, Fineman is well qualified to handle high-income support cases involving an intricate knowledge of both family law and complex financial issues. Additionally, she has represented her clients' interests in appellate court matters before the Superior Court of Pennsylvania.
Fineman devotes her time to a variety of professional and community organizations. She serves on the executive board for the Doris Jonas Freed American Inn of Court and is an active member of the Family Law Section of both the Bucks County Bar Association and Pennsylvania Bar Association.
As a member of the Jewish Federation of Greater Philadelphia Renaissance Group's Board, Fineman participates in many volunteer and fundraising activities to support members of the Jewish community in Philadelphia, Israel and the former Soviet Union. For the past several years, she has also served as a team captain for the Crohn's & Colitis Foundation of America's Philadelphia/Delaware Valley Chapter's Annual Walk and has helped to raise more than $15,000 in charitable donations.
Fineman is an Avvo-Rated Attorney and has been recognized since 2013 by Thomson Reuters as a "Rising Star," an honor recognizing top up-and-coming lawyers in Pennsylvania, as part of its Super Lawyers program. In 2014, she was named to the "Forty Under 40" list of community leaders by the Bucks County Courier Times and The Intelligencer newspapers.
Williams Family Law, P.C. – Williams Family Law, P.C., is a premier family law firm based in Bucks County, Pa. The firm provides individuals with matrimonial and family law legal counsel and representation in alimony, child support, child custody, divorce, cohabitation, grandparents' custody rights, equitable distribution, marital settlement agreements, prenuptial and postnuptial agreements, separation agreements, spousal support, matrimonial taxation issues and related legal matters. The family law attorneys also provide guidance and representation in alternative dispute resolution forums, handling mediation, arbitration and custody dispute resolution. The practice at Williams Family Law centers on four core principles: experienced guidance, compassionate advice, powerful advocacy and knowledge of the local courts and counsel. The firm prides itself on leadership within the profession and a strong record of success. To learn more, visit http://www.bucksfamilylawyers.com or email questions(at)bucksfamilylawyers(dot)com.