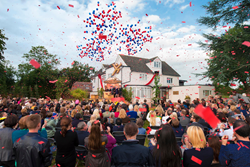 I can truly say that the Narconon success rate is second to none
Los Angeles, CA (PRWEB) September 11, 2015
To the cheers of hundreds of supporters gathered at its East Sussex site, the ribbon was cut Saturday, September 5, on a model Narconon drug rehabilitation centre in the United Kingdom. The facility promises to provide a highly effective setting to help individuals free themselves from the grip of addiction and at the same time train Narconon staff from throughout the UK.
The renowned Narconon drug-free rehab methods, based on the researches and writings of Scientology Founder L. Ron Hubbard, will be delivered in a distraction-free environment on nearly nine pastoral acres near the village of Maynards Green. It opens during an exciting time of expansion for the Narconon network around the world.
The President of the Association for Better Living and Education International (ABLE) was on hand to officiate the opening. "This new Narconon centre not only provides rehabilitation services but also serves as a model centre to train staff for future Narconon centres up and down the United Kingdom," she said. "Hundreds of millions of lives are affected by illicit drugs, with too many ending before their time. Together we can reverse the evils of addiction and make the UK known around the world as the standard-bearer of a drug-free society."
Narconon United Kingdom Executive Director Ms. Sheila MacLean summed the meaning of the day when she remarked: "In this new magnificent facility we have the perfect environment for both rehabilitation and training of professionals who seek to implement this effective program in their communities. Now it is our responsibility to use it for the good of the community. And that, we shall do."
The timing of this Narconon centre's launch is especially fortuitous during a time when the drug addiction problem is so urgent and acute in the UK.
"The results of a national drug survey in 2014 are staggering," said East Grinstead Mayor Mr. Dick Sweatman to those gathered for the opening. "More than 3 million people are taking illegal drugs in this country today. And in case you think it's just a problem with the underprivileged in the inner cities, 40 percent of users are in the higher echelons of society. There are over one million problem drug users in the country right now. This is epidemic proportions."
Mr. Sweatman added that he appreciates that the Narconon programme is "comprehensive and covers all aspects needed to help a person get back on their feet and teach them the tools to stay on their feet and succeed. This is not just a drug rehabilitation centre delivering a highly successful programme, it is also a training centre to enlist Narconon specialists to tackle this drug issue."
Also addressing the guests at the Narconon opening was Dr. Basant K. Puri, medical professor at Hammersmith Hospital and Imperial College London, who heads the Lipid Neuroscience Group in the Imaging Sciences Department of the Faculty of Medicine. Dr. Puri expressed high praise for Narconon's drug-free approach to addiction rehab.
"My experience and my own research have found that a holistic and natural approach is the way forward," Dr. Puri said, "and that giving the addict replacement drugs or even additional drugs simply causes more addiction and more suffering. I have to say that Mr. Hubbard was a man well ahead of his time."
Heathfield and Waldron Parish Councillor, Mr. Steven Taylor welcomed Narconon to its new home on behalf of the parish. "We are delighted to have you here," he said. "We wish Narconon, its employees and students every success for the future."
The final speaker was Ms. Diana Coad of the National Drug Prevention Council. "I can truly say that the Narconon success rate is second to none," she emphasized. "I have seen so many people leave alcohol and drug treatment programmes and, through the revolving door, go right back to their original life of drug abuse. But the vast majority of Narconon graduates go on to live stable, ethical, productive, drug-free lives year after year.
"I would love to have met L. Ron Hubbard, as he was clearly a brilliant and fascinating man, a visionary, a leader and an innovator—and the success of this programme is due to his discoveries."
After the opening ceremony and ribbon pull, as guests streamed in to tour the centre and learn more about the programme, Ms. Coad said, "I cannot describe how proud and happy I was to have been part of this today. The whole opening was extremely exciting—it is going to help so many people! This is the beginning of our fight against drugs, our attack against these dangerous toxins, and it will be a war that we will win."
A guest from London promised to "promote your rehabilitation programme that does not use drugs to anyone I speak to about the matter. It really is the way to go and even the (British) government recognizes that. The fact that your programmes are promoting this is incredible and I think the world needs to know!"
Dr. Puri added after the event, "I think it is really important to educate and demonstrate to a variety of people that there is a non-pharma option for the treatment of drug rehab patients."
Another guest in attendance was moved to conclude, "Through the opening of this new facility, I can see how drug addiction will be effectively handled. I know a friend's son who is a drug addict, and I will tell her about the centre and to bring him here."
For nearly 50 years, the Narconon programme has saved the lives of countless individuals who were thought lost to substance abuse forever. Its mission is to provide an effective path for drug abuse rehabilitation and to assist society in reversing the scourge of abuse worldwide.
Narconon addresses those in the programme as "students" rather than "addicts" or "victims," and its sole purpose is to provide people with the tools to lead successful drug-free lives. Every detail is considered to give students the stability and comfort they need to help free them from addiction and rebuild their lives without drugs.
The Narconon programme begins with a drug-free, nonmedical withdrawal process designed to assist the individual in shedding a dependence on drugs as rapidly and comfortably as possible. It is followed by a distinctive method of detoxification, specifically geared to help drug users eliminate the residues in the body that drive cravings, while at the same time supporting the body with supplements. The final component of the programme is a series of Life Skills Courses that furnish students the tools needed to remain drug-free throughout their lifetime.
Harnessing the power of audiovisual tools to bypass literacy barriers and increase understanding, 23 instructional films in 29 dialects and languages have been created for the various parts of the Narconon programme.
The opening of the new state-of-the-art Narconon centre in the UK was made possible by generous contributions from members of the International Association of Scientologists. It is the second of a series of model Narconons opening over the coming weeks. Also on September 5, the Continental Narconon Europe was dedicated in the countryside of Denmark. Narconon Latin America in Mexico—serving the 21 nations of Latin America—opens next, followed by a Narconon facility atop the mountains in Ojai, California, specifically dedicated to providing drug rehabilitation services to artists and leaders in society.
Narconon centres operate today in some 23 countries on six continents. For more information, visit http://www.narconon.org.