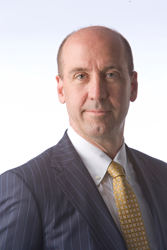 The past year has witnessed a series of startling technological advances. Each development is an extraordinary advance and each heralds a brighter future.
San Francisco, CA (PRWEB) September 16, 2015
On September 18th global futurist Jack Uldrich and author of "Foresight 20/20: A Futurist Explores the Trends Transforming Tomorrow" will join Charlene Li, Richard D. Parsons, Natasha Hritzuk, Mike Linton and David Pogue as guest speakers at the Future Vision Conference in Sonoma, California.
Uldrich, whose forthcoming book is Business as Unusual: How to Future-Proof Yourself Against Tomorrow's Transformational Trends, Today, will discuss the future of retail at the conference.
Specializing in emerging technologies, future trends and change management, Uldrich says, "Startling technological breakthroughs have taken place in the past year. Each development is an extraordinary advance and heralds a brighter future." Some of the highlights of Uldrich's presentation will include the discussion of mobile shopping, Facial Recognition Technology, and even home delivery systems via drones.
A former naval intelligence officer; Defense Department official; and former director of the Minnesota Office of Strategic and Long-Range Planning, Uldrich has delivered presentations on retail to Target, HEB Grocery, Hy-Vee, the Food Marketing Institute and PepsiCo among others. He has made appearances on the Science Channel's "FutureScape" program and the Discovery Channel show "Inside Out." He is also a frequent guest on major media outlets, including CNN, CNBC and National Public Radio.
Having delivered recent keynotes to Banamex in Mexico City, True Value's Fall Market in Chicago, Uldrich will round the month out traveling to the Midwest to speak with Coulee Bank and to a private financial client in South Carolina.
Media and other parties interested in learning more about Jack Uldrich, his books, his daily blog or his speaking availability are encouraged to visit his website.