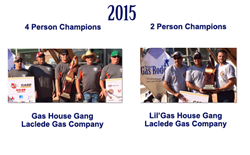 It was a terrific event.
Eagan, MN (PRWEB) September 15, 2015
A record 52 teams competed at the 2015 National GAS Rodeo in Colorado Spring, CO. This annual competition brings together natural gas teams from around the country to showcase their skills in front of family and friends. After an intense day of competition and fun two of the Laclede Gas Company (Missouri) teams earned the title "Champions": Lil'Gas House Gang (2 Person) and Gas House Gang (4 Person).
The event was full of memorable and emotion filled moments. Rodeo committee member, Tim Ellefson of Colorado Springs Utilities, recently passed away. The committee honored Ellefson with the Trail Boss Award and his 10 year old son, Hagen, accepted the award in front of over 500 people in his father's memory. The teams collected over $8,000 to support the Ellefson Family and donated team shirts to Hagan. Lori Ellefson, Tim's wife, opened the 2015 National GAS Rodeo.
The National GAS Rodeo gathered 15 companies to exhibit at the Rodeo banquet and over 20 companies sponsored the event or donated materials and people's time. The National GAS Rodeo also thanks our Premier Sponsors, Case Construction and Val-Tex, our committee members and volunteers without whom we could not do this.
"This was another home run year for the Rodeo," said John Gann, vice president, program services of MEA. "A record number of teams, outstanding support from Colorado Springs Utilities, and a great day of competition. It was a terrific event."
Overall Rodeo Champions:
2 Person, Lil'Gas House Gang: Dan Webb, Stephen Bouse, and alternate, Barry Hicks
4 Person, Gas House Gang: Rob Hayes, Aaron Witt, Evertt Cox, John Joughary, and alternate, Scott Cosma
2nd Place
2 Person, Insane Methane from Piedmont Natural Gas (North Carolina)
4 Person, Explosive Limit from Colorado Springs Utilities (Colorado)
3rd Place
2 Person, Arch Memesis from Laclede Gas Company (Missouri)
4 Person, Ignition Source from Piedmont Natural Gas (North Carolina)
WE'RE MOVING: The 2016 and 2017 National GAS Rodeo competitions will be hosted by Xcel Energy in Denver, Colorado. For more information go to http://www.NationalGasRodeo.org or call Jennifer Hansen at (651) 289-9600 x109.
MEA and the National GAS Rodeo are proud of all the teams and thank Colorado Springs Utilities for hosting the Rodeo during these past two years. Great Crews Just Don't Happen!
About the National GAS Rodeo:
The National GAS Rodeo is the proving ground for the elite gas crews from across the United States. The intense competition and camaraderie of the Rodeo offer competitors an opportunity to showcase their skills and professionalism. The National GAS Rodeo is proudly administered by Midwest ENERGY Association and supported by American Gas Association, American Public Gas Association, and Southern Gas Association.
About MEA:
MEA serves the people that deliver electricity and natural gas to homes and business. MEA (Midwest ENERGY Association) was founded as a trade association over 100 years ago by distribution utilities, whose vision was to improve safety and efficiency. Today, energy delivery companies around the globe benefit from MEA's industry learning seminars, operations summits, and other events. Members collaborated to develop EnergyU, the world's premier online training and testing system for energy delivery companies.