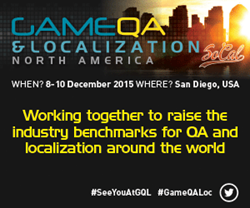 "We can all make our industry better with events like this. To share a voice, to listen and explore how and why we do what we do is not just a privilege, it is a necessity" - Melanie Fleming, Localization Producer, BioWare
San Diego, CA (PRWEB UK) 14 September 2015
It's happening again – Today, Gaming IQ announced the initial speakers and program for the upcoming North American iteration of it's acclaimed Game QA & Localization forum.
With the number of gamers increasing exponentially both in proficiency and diversity, and bigger, faster, more complex and realistic games than ever before, across all platforms developers and publishers simply cannot afford to get the QA and Localization of titles wrong!
This is where the Game QA & Localization forum 2015 comes in.
Now in its 3rd year, and the 6th event in the Game QA and Localization series, it is the world's only two-day forum entirely dedicated to QA and localization within the gaming industry at the most senior level.
In December, the forum will welcome Michael Gilmartin, Blizzard's Vice President of Global Platform Services, as the event Chairman. Michael is a huge champion of both QA and localization, which perfectly aligns with Gaming IQ's 2015 event theme – QA & localization as equal and essential pillars of game development.
Experts taking part in panels, discussions and presentations, include:
Michael Gilmartin, Vice President, Global Platform Services, Blizzard
Michael Weber, Director of Central Development, Gearbox Software
William Barnes, Senior Manager, Global Localization, Blizzard
Darren Merritt, QA Director, Riot Games
Jenny McKearney, Localization Producer, BioWare
Kevin Earley, QA Director, Eidos Montreal
Yoko Nishikawa, Director, Localization Department,NIS America, Inc.
Prodipto Roy, QA Manager, Wargaming
The Game QA & Localization Forum: San Diego takes place in December 8-10. Find the program, event details and registration information about the forum on http://www.gameqaloc.com/northamerica, phone +44 (0) 207 036 1300 or email enquire(at)iqpc(dot)co(dot)uk.
Press are invited to attend this important industry forum, if you would like to a complimentary press pass please email Jane Cook jane(dot)cook(at)iqpc(dot)co(dot)uk