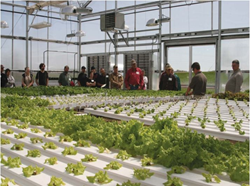 "Growers Supply CEA school was a wonderful opportunity to learn how to optimize my hydroponic system," said CEA school attendee Scott Burnette.
SOUTH WINDSOR, CONN. (PRWEB) September 15, 2015
Growers Supply, the industry leader in greenhouses, high tunnels and hydroponic systems, will be hosting three educational CEA (Controlled Environment Agriculture) Schools at its Technology Center West in Dyersville, Iowa and Technology Center East in South Windsor, Connecticut.
CEA Schools offer attendees a education-filled 3 day schedule in which Growers Supply experts and special guest speakers educate students on new and innovative growing techniques, such as hydroponics and aquaponics .
Growers Supply's CEA schools are scheduled for the 2015 year and cost only $995. This cost includes a three day hotel stay, lunch each day and a workbook. Upon completion of the school, each attendee will receive a $995 product credit that can be used towards the purchase of any controlled environment product, including greenhouses, hydroponic systems, heaters and more.
One-day fodder classes are also available at Growers Supply two technology centers. Growers Supply one-day fodder classes cost $295 and include a workbook, lunch and the one-day class. The fodder class is geared to farmers of all backgrounds and experience levels, and will inform attendees of the latest trends in growing hydroponic fodder. Upon completion of the class, students will be receiving a $295 credit towards the purchase of a Growers Supply fodder system.
Space is limited for Growers Supply September school, so register today!
Future Dates are listed below:
2015 Growers Supply CEA Schedule
Connecticut
September 23-25th
October 28th - One day event
December 9-11th
Iowa
October 14th - One day event
November 3rd-5th
CURRICULUM
The schools' curriculum starts with the basics of year-round hydroponic crop production. Attendees will learn about the benefits of specific hydroponic systems, and how they compare to others.
Hydroponic growing has recently attracted attention, due to the loss of fertile farmland and large-scale droughts around the world. Hydroponically grown plants grow up to 50 percent faster and produce higher yields when compared to traditional methods. Hydroponics also allows you to grow 10 times more produce in the same space, using 90 percent less water than traditional outdoor growing methods. Hydroponic systems eliminate the need for soil and pesticides, while reducing water waste and the amount of natural resources needed to grow.
Attendees will also learn basic and advanced information on plant nutrition, including nutritional testing, supplementation, instrument calibration and more.
With a complete understanding of hydroponics, discussing how to plan for and set up a controlled environment will come much easier. Growers Supply's controlled environment topics will include how to best control temperature and humidity, sizing a greenhouse, environmental control setup and more.
Attendees will also receive valuable information on aquaponics from industry experts and leaders within the field. These presentations showcase the symbiotic relationship between plants and fish that many are beginning to take advantage of.
To sign up for CEA school at Technology Center East contact Justin Dunham at 800.476.9715 ext. 1031 or email at jdunham(at)growerssupply(dot)com.
To sign up for CEA school at Technology Center West contact Cathy Eiben at 800.327.6835 ext. 7795 or email at ceiben(at)growerssupply(dot)com.
Click here for more information.
Click here to watch past CEA school customer testimonials.
Growers Supply is the leading manufacturer of greenhouses, high tunnels and controlled environment agriculture systems, offering design-build solutions for the horticulture industry. With a catalog of over 30,000 products, complete growing systems can be custom designed to fit the needs of any business. FarmTek's corporate headquarters are located in South Windsor, Conn., and supports a campus for manufacturing and distribution in Dyersville, Iowa.