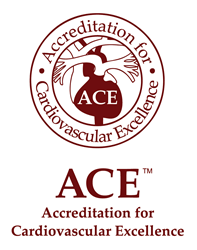 ACE accreditation is our version of the Good Housekeeping Seal of Approval—a clear message to our patients, our colleagues, our hospitals, the media, and the government that we are doing the right thing for [our] patients. -- J. Jeffrey Marshall, MD
Washington, DC (PRWEB) September 15, 2015
Accreditation for Cardiovascular Excellence (ACE) announced that 100% of its eligible accredited facilities have obtained or are seeking reaccreditation – a sign of the growing recognition by hospital systems of the value of accreditation and external review as a strategy for cardiovascular program quality assurance. The 100% reaccreditation rate also represents important validation for ACE as the standard-bearer for achieving quality metrics in cardiac catheterization laboratories.
"Every cath lab that achieves ACE accreditation can announce to its community that the premier cardiac certification organization has thoroughly reviewed its processes, documentation, and outcomes, and has found it met standards for quality," said J. Jeffrey Marshall, M.D., past president of the Society for Cardiovascular Angiography and Interventions (SCAI) and medical director of the cardiac catheterization laboratory at the Heart Center at Northeast Georgia Medical Center in Gainesville, Ga. "ACE accreditation is our version of the Good Housekeeping Seal of Approval—a clear message to our patients, our colleagues, our hospitals, the media, and the government that we are doing the right thing for the patients we serve."
ACE has also been approved by the State of Michigan to provide accreditation for specific types of cardiac catheterization services in the state. The approval follows a determination by the Michigan Department of Community Health Certificate of Need (CON) Review Standards that certain facilities providing elective percutaneous coronary intervention (PCI) services, which seek a waiver from state regulations requiring onsite availability of open-heart surgery, shall have ACE Accreditation perform an onsite review after implementation.
The Michigan legislation is similar to the approval ACE received from the Commonwealth of Pennsylvania in 2014. The Commonwealth directed Pennsylvania facilities that perform elective PCI procedures without onsite surgery to gain accreditation meeting ACE standards as a means to secure a waiver from state requirements for onsite surgical services.
"I encourage all Michigan cath lab facilities without onsite backup surgery be accredited by ACE, similar to the legislation passed by the Commonwealth of Pennsylvania," commented David H.W. Wohns, M.D., medical director of the cardiac catheterization laboratory at Spectrum Health Medical Center in Grand Rapids, Michigan. "The ACE accreditation process was invaluable in driving overall quality at Spectrum Health when we were first accredited in 2012. The feedback impacted many aspects of our program and quality. We started re-accrediting earlier this year and are proud to have received re-accreditation."
ACE is the only organization to be recognized by the states of Michigan and Pennsylvania to provide expert guidance to state regulatory departments on national standard criteria for cardiac catheterization laboratories. ACE helps to reduce the complexity of documentation and standardization, to allow cardiac catheterization laboratories to focus on vital quality indicators, resulting in cost-effective programs that mitigate risk.
__________________________
1 http://www.michigan.gov/mdch/0,4612,7-132-2945_5106---,00.html
About Accreditation for Cardiovascular Excellence (ACE)
ACE is an independent organization sponsored by the Society for Cardiovascular Angiography and Interventions (SCAI). ACE offers independent evaluation and monitoring of facilities that provide cardiovascular care. By reviewing facility and operator performance and comparing clinical decision-making to nationally accepted best practices; ACE quality review and accreditation services play a critical role in continuous quality improvement programs. Learn more at http://www.cvexcel.org.