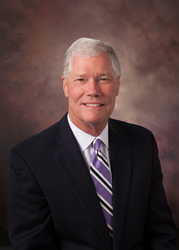 Greenville, N.C (PRWEB) September 15, 2015
In his new role, Dorson will be responsible for leading the East Region team and helping them grow their presence and contributions to the communities the Bank serves. The East Region includes Washington, New Bern, Elizabeth City, Morehead City, the Outer Banks, Greenville and Kinston. Dorson has over 40 years of banking experience including executive management positions with two North Carolina community banks. He brings to First South Bank extensive experience in retail and commercial banking, tactical implementation of strategic initiatives and inspiring corporate culture through personal leadership.
Bruce Elder, President and CEO of First South Bank, commented "We are excited to welcome Dorson back home to Greenville and Eastern North Carolina. Dorson is eager to leverage his talents and connections to help First South Bank realize its vision of being the community bank of choice in these important markets."
Prior to joining a community bank headquartered in central North Carolina in 2011, Dorson spent 22 years with the former East Carolina Bank (ECB) headquartered in Engelhard, NC. Although Dorson worked primarily out of the Greenville, NC market, his business and banking contacts and relationship stretched across the entire ECB footprint; a footprint that matches up with First South Bank's East Region.
"I'm pleased to be a part of the First South Bank team," said Dorson. "My goal is to actively contribute to the success of our customer's financial life. It all starts with providing our trademark "You First" experience; listening to our customers, forming meaningful relationships, and tailoring every solution."
Dorson currently resides in Greenville, N.C. with his wife Leslie. They have two adult children, Josh and Kelley. Dorson and Leslie attend Jarvis Methodist Church.
First South Bank has been serving the citizens of eastern North Carolina since 1902 and offers a variety of financial products and services, including an equipment leasing company and securities brokerage services through an affiliation with a broker/dealer. The Bank operates through its main office headquartered in Washington, North Carolina, and has 32 branch offices located throughout central, eastern, northeastern and southeastern North Carolina.
###