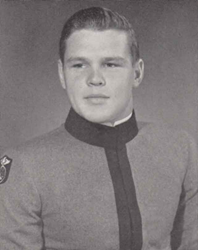 While Fork Union Military Academy is well-known for its celebrated and acclaimed athletes, it is no exaggeration to point to Steve Meilinger as the grandaddy of them all, the first and perhaps the greatest of Fork Union's most storied athletes.
Fork Union, Virginia (PRWEB) September 15, 2015
The Fork Union Military Academy family today mourns the passing of one of its dearest and most familiar members as Steve Meilinger, an alumnus of the Class of 1950, lost his final contest with cancer early Monday morning at age 84.
It seems hard to believe that Steve Meilinger could have been 84 years old, much less that he could take ill and succumb to cancer. On his last visit to Fork Union this past May, when he participated in the school's Alumni Weekend, he appeared as robust as ever. His familiar charisma radiated widely and his massive hand threatened to crush those he greeted with the strength of his handshake. In May of this year, Steve Meilinger still looked like the Hall of Fame athlete he was. But there were a few signs that Steve knew this year was different for him. This marked the first year that Steve did not actually play in the charity golf tournament, asking to act as a celebrity host instead, saying it was due to unspecified "health reasons." He seemed to make an extra effort to spend an extra moment with friends, both old and new. He told some that he thought this might be his last golf tournament, saying that the trip from Kentucky was just getting too hard at his age.
It was difficult for those hearing this to imagine an Alumni Weekend with Steve staying at home in Kentucky. As Steve himself told a reporter from the Newsplex television stations this May, "It's amazing for me to come back every year, because I always say of all the school years I've had, this was always my best right here, and I love coming back and seeing everyone I graduated with and the new people, and it's amazing. I really love to come back every year." And it's safe to say that love was returned by all who knew Steve here at Fork Union Military Academy.
While Fork Union Military Academy is well-known for its celebrated and acclaimed athletes throughout its history, it is no exaggeration to point to Steve Meilinger as the grandaddy of them all, the first and perhaps the greatest of Fork Union's most storied athletes.
Meilinger attended Fork Union as a member of the Class of 1950 and played offensive end on the 1949 varsity football team that posted a 9 and 1 record, its only loss coming at the University of Maryland Junior Varsity when Maryland scored in the final fifty-five seconds of the game to edge out a 9 to 7 win. The Fork Union Blue Devils won the 1949 State Military Championship and played in the Orchid Bowl in Chattanooga, Tennessee, against Columbia Military School. On the first play from scrimmage, Meilinger caught a pass for a touchdown. He would go on to contribute three touchdowns that night in Fork Union's 41 to 7 victory in the Orchid Bowl. Meilinger was one of five Blue Devils named in 1949 to Virginia's All-State Team.
Following his graduation from Fork Union Military Academy, after weighing as many as 38 scholarship offers from college programs, Meilinger went on to play for the legendary Coach Bear Bryant at the University of Kentucky. Meilinger played end, halfback, and quarterback on the offensive side of the ball, and then on defense covered the end, linebacker, and defensive back positions. He also spent two years as Kentucky's starting punter while also returning punts and kick-offs. It's hard to imagine a more versatile football player at such a high competitive level. It's one thing to play a lot of positions on a Pop Warner youth league football team, but to do so on one of the nation's top college teams for one of the best coaches in the history of the game is another kind of feat entirely. Meilinger was a First Team All-America selection in 1952 and 1953 and helped lead the Wildcats to a Cotton Bowl victory over TCU in 1952. He was named three years to All-Southeastern Conference honors and was known as "Mr. Anywhere" for his versatility on the Kentucky team, one of the top-valued two-way players of the 20th century. Meilinger is still recognized today as one of the best football players in the history of Kentucky football.
Meilinger was selected by the Washington Redskins in the first round of the 1954 NFL Draft with the 8th overall pick, but before beginning his pro football career, he served two years as a tank commander in the US Army's 1st Armored Division, 100th Tank Battalion. After completing his military service, Meilinger returned to football and played six years in the NFL. He played for the Redskins in 1956 and 1957. He then joined the Green Bay Packers in 1958, catching passes from famed quarterback Bart Starr and coached by the one and only Vince Lombardi. He was a member of the 1960 Packers team that played in the 1960 NFL Championship Game, losing to the Philadelphia Eagles, 13 to 17. In August 1961, Meilinger was traded to the Dallas Cowboys where he played six games under Coach Tom Landry before being traded to the Pittsburgh Steelers where he finished his football career, his playing days cut short by injury.
There are few (if any) players besides Meilinger who can say they played for arguably the three greatest coaches in football history during their football careers: Coaches Bear Bryant, Vince Lombardi, and Tom Landry. It's also interesting to note that in his second and final year with the Redskins, 1958, Meilinger was teammates with a defensive back who had arrived in Washington that season for his seventh and final year as a player, but who would go on to establish his own legendary 33-year coaching career, first with the Baltimore Colts and then with the Miami Dolphins. That defensive back was Don Shula.
The celebrity golf tournaments at Fork Union Military Academy would often bring back together players from Meilinger's era in the NFL, and entertaining stories would begin to flow. At one such tournament gathering, the New York Giants Hall of Famer Sam Huff (whose son had gone to Fork Union Military Academy) was playing. Sam Huff had developed a fearsome reputation during his playing days. In fact, in 1960, Walter Cronkite hosted a television documentary about his football playing style titled "The Violent World of Sam Huff." Steve Meilinger and Sam Huff were both rookies in 1956, and since Meilinger played for the Redskins and Huff played for the Giants, they would certainly have played each other as division rivals, so Meilinger's playing partners pressed him for stories about what Huff was really like back in those days, and whether he was really as fierce and scary as the documentary made him out to be. Meilinger chuckled and told a story about the very first play in which he'd faced off against the Giants his rookie season. The play that had been called was a run play, a sweep to the right side, and Meilinger's assignment was to block the middle linebacker, Sam Huff. Meilinger performed his block perfectly, in fact, he knocked Sam Huff flat on his back, a complete pancake block, and Meilinger landed right on top of him. As the whistle blew and Meilinger started to get up, Huff reached up and grabbed him by the facemask and pulled his helmet back down until they were face to face again. Huff just glared at him for a moment then growled, "Don't EVER do that again." At this point, Meilinger looked around wide-eyed at those listening to his story, and said, quite earnestly, "And I didn't!"
When Meilinger's playing days were over, he briefly considered going into coaching, but his mentor, Coach Bear Bryant advised him that coaching wasn't for him and told him to get a different job. Perhaps Coach Bryant could see that Steve Meilinger had a contribution to make that would be larger than the playing of a game.
Meilinger did get a different job. From 1962 until his retirement in 1982, Meilinger served as a U. S. Marshal. More significantly, he became one of six marshals who helped found the U. S. Federal Witness Protection Program. He also served as Chief Deputy of the Eastern District of Kentucky. Following his retirement as a U. S. Marshal he became a Property Valuation Officer for the Commonwealth of Kentucky.
When Fork Union Military Academy founded its Sports Hall of Fame in 1996 there was no question as to who one of the charter members would be at the first induction ceremony. Steve Meilinger was among the first individuals inducted in 1996 at Fork Union. He has been enshrined in other Halls of Fame as well, including the State of Kentucky Hall of Fame, the University of Kentucky Hall of Fame, the Lehigh Valley Hall of Fame, and the Liberty High School Hall of Fame. The most meaningful induction ceremony, however, came most recently, in December of 2013, when Meilinger became the fourth Fork Union alumnus to be inducted into the prestigious College Football Hall of Fame, joining other Blue Devils Eddie George, Dexter Coakley, and Vinny Testaverde in receiving that honor.