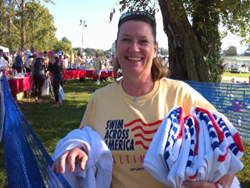 I know that participating in Swim Across America is a way that Ellen would want people to honor her memory.
(PRWEB) September 15, 2015
Ellen Dierkes loved many things over the course of her 58 years. She loved her family. She loved getting her hands dirty in the garden and was passionate about quilting. She loved coffee, lots of it. And she especially loved teaching 5th grade at Garrison Forest School, an all-girls' K-12th grade independent school in Owings Mills, Maryland where she taught from 2001 until two days before her death of cancer on November 7, 2014.
On Saturday, September 19th, 3 p.m. at the Meadowbrook Fitness and Aquatic Center, Ellen's family, friends, past Garrison Forest students and former colleagues will swim in her memory for the 2015 Swim Across America (SAA) Baltimore event. This year's Baltimore September 19 event includes the "Garrison Forest for Ellen Dierkes" team, which will be sporting light blue/dark blue swim caps (Garrison Forest school colors). All money raised benefits cancer research, prevention and treatment at the Sidney Kimmel Cancer Center at Johns Hopkins. The 2015 SSA open water event is Sunday, September 20.
Swimming, ironically, was one of the few things Ellen did not love—she didn't like the cold water—though her boundless enthusiasm made her the perfect pool spectator/cheerleader. For several years before her cancer diagnosis of Stage Four melanoma, she cheered on her husband John as he participated in open swims for Swim Across America. When she was diagnosed in 2010, John, their daughters Emily and Carly and friends created Team mELLENoma in her honor. (For the 2015 SAA event, team mELLENoma is the top fund-raising team with more than $65,000 raised toward its $100,000 goal). Though the first to admit that she wasn't a terrific swimmer, Ellen knew a thing or two about fortitude, and in 2012, after treatment for melanoma, she and daughter Emily swam a one-mile SAA event.
The "Garrison Forest for Ellen Dierkes" team is organized and coordinated by parent Gretchen Townsend (Sydney '21), Ellen's teaching colleague, Dana Livne, 4th Grade teacher, Traci Davis, GFS Athletic Director and teachers Kristen Miller (Josie '23 and Lucy '21), Karin Riesenfeld and Kathy Schaffer. Currently, the GFS team is in 5th place for fundraising for the 2015 SAA event. Several of Ellen's students are swimming in her memory, and whether they complete one lap or 50, the Garrison Forest team plans to swim with the spirit with which Ellen Dierkes lived her life and fought cancer—with conviction, indomitable spirit, authenticity and bravery.
"I am thrilled that I am able to participate in an event that meant so much to Ellen and her family and at the same time raise money for cancer research," says Ms. Livne, who taught with Ellen for 10 years. "Ellen and I clicked from the moment that we met and we were a true team. I know that participating in Swim Across America is a way that Ellen would want people to honor her memory."
Visit the "Garrison Forest for Ellen Dierkes" team page for details.
Event details:
Swim Across America Open Pool Swim in Memory of Ellen Dierkes
Saturday, September 19, 2015, 3 p.m.
Meadowbrook Aquatic and Fitness Center
5700 Cottonworth Ave, Baltimore, MD 21209