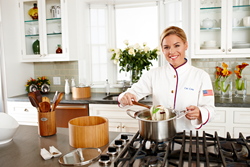 Santa Barbara, Calif. (PRWEB) September 16, 2015
Santa Barbara in the fall is all about the harvest — a time to gather with friends and family to celebrate the bounty of the region, from newly released wines to sustainably harvested seafood. It's also the time for epicure.sb, The American Riviera's annual celebration of cuisine, libations and culture. Throughout the month of October, participating restaurants, hotels and attractions feature special off-menu dishes and food-focused experiences, such as the "Quickfire Cooking Challenge with Cat Cora," the celebrity chef of "Iron Chef America." Some of the region's signature epicurean festivals converge in this season, from the Santa Barbara Harbor & Seafood Festival to the Celebration of Harvest.
Lately, much of the local talk has been about The Mill, an exciting new development in a mill dating back to the early 1900s that's been beautifully refurbished. Located a few blocks off State Street, it will house a winery, brewery and restaurant. Potek Winery is the first to open, and we eagerly anticipate the other businesses following sometime in November.
Looking for a more active getaway? Head to Los Padres National Forest for Enjoy the Mountain's new tours on ATVs (all-terrain vehicles), take a spin around Goleta's new ice skating rink or learn tips for shooting great photos with your phone or camera in an Eye See Santa Barbara photography tour. Read on for more activities and businesses setting Santa Barbara abuzz this fall.
1) Held from Oct. 1 through Oct. 31, epicure.sb is a delectable month-long celebration of Santa Barbara South Coast's culinary scene. Now in its seventh year, epicure.sb showcases Santa Barbara's food, libations and culture through exclusive taste experiences, events and unique restaurant, hotel and tasting room offerings. This year's theme is "The Perfect Pairing." More than 55 participating South Coast businesses have created unique offerings that feature paired components. EpicureSB.com
2) In a signature epicure.sb event, celebrity chef Cat Cora (of Food Network's "Iron Chef America") will host the "Quickfire Cooking Challenge with Cat Cora" 5:30 to 7:30 p.m. Thurs., Oct. 8 at the Santa Barbara Public Market. Three contestants will face off using ingredients from the market's purveyors to create up to three dishes, which will be judged by the renowned chef. Tickets are $95, which includes kitchen seating, appetizers and wine. SBPublicMarket.com
3) Set in a refurbished historic feed mill, The Mill is a new artisan market in Santa Barbara's SoCo (South of Cota) neighborhood. Its vendors – including Potek Winery, Third Window Brewery and Wildwood Kitchen – embody a farm-to-bar-and-barbecue concept as they produce, bottle and sell their products on site. The Mill opened its doors with the inauguration of Potek Winery (from Dave Potter of Municipal Winemakers) Aug. 20, a unique label inspired by the bravery of exploration and strength in family. TheMillSB.com
4) As part of the Suite California Getaway Coastal Tour, The Four Seasons Resort The Biltmore Santa Barbara offers a vacation package that allows guests to immerse themselves in the sophisticated California vibe of the Funk Zone. Guests stroll, savor and sip their way through Santa Barbara's hippest neighborhood, experiencing the eclectic blend of wine-tasting rooms, eateries, artisan shops and more. Offer is valid from Sept. 1 through Mar. 31, 2016 and requires a two-night minimum stay. FourSeasons.com/California
5) The Celebration of Harvest Weekend is Santa Barbara's annual celebration of the year's bounty. Vintners take a break from the vineyards and cellars to pour their wines and share harvest tales at the Festival Grand Tasting on Sat., Oct. 10 at Old Mission Santa Inés in Solvang. Throughout the weekend, select wineries host their own events, ranging from winemaker dinners to new wine releases. This year's celebration will be held over Columbus Day weekend (Oct. 9 to 12). CelebrationofHarvest.com
6) Coinciding with the start of lobster season, the Santa Barbara Harbor & Seafood Festival on Sat., Oct. 17 features fresh seafood caught in the Santa Barbara Channel by dozens of local fishermen. A wide variety of delicious Santa Barbara specialties will be showcased, from lobster and sea urchin to albacore tuna and clam chowder. This year's festival features live music, wine and seafood pairings at the Santa Barbara Maritime Museum, tall ship tours, free boat rides and more! HarborFestival.org
7) Knock, knock! Who's there? The Santa Barbara LOL Comedy Festival! After a successful debut in 2014, the LOL Festival returns to Santa Barbara for another round of fun and laughter. From Oct. 8 to 17, a stellar lineup of nationally and internationally acclaimed comedians performs at venues throughout Santa Barbara's Historic Theatre District, as well as other downtown locations. Sit back and enjoy nine back-to-back days of hilarious stand-up comedy acts that will make you howl with laughter. LOLComedyFestival.com
8) Ready to take pictures like a pro? Learn how to capture all of Santa Barbara's beauty with the new Eye See Santa Barbara photography tour. Using a digital camera, a cell phone or even a tablet, Eye See Santa Barbara provides participants with all the tools they need to take beautiful photos while exploring some of Santa Barbara's most iconic locations. People of all skill levels are guaranteed to walk away with memories that will last a lifetime. EyeSeeSantaBarbara.com
9) Lace up your skates, grab a friend and get ready to spin around Ice in Paradise! Located in Goleta, near Girsh Park, Ice in Paradise is a 46,500-square-foot arena for recreational ice skating, featuring a National Hockey League-size rink and a smaller studio rink. Ice in Paradise is set for a soft opening in late September with an official grand opening in October. This state-of-the-art facility will also offer a variety of ice skating classes. IceinParadise.org
10) The Goleta Valley Historical Society presents the 44th Old-Time Fiddlers' Convention and Festival Sun., Oct. 11 on the grounds of the historic Rancho La Patera & Stow House. The festival is a family-friendly celebration of American traditional music, featuring musicians that jam to everything from bluegrass to Quebecois folk throughout the day. Stroll the ranch's scenic grounds, participate in free workshops or drink a pint of locally brewed beer – all to the rhythm of fiddles, banjos and guitars. StowHouse.com
11) Looking for a greener way to explore Santa Barbara County's world-renowned wine country? A new charter bus service from Clean Air Express connects downtown Santa Barbara with the Santa Ynez Valley in about an hour, operating scheduled round-trips on Saturdays. Even better, each motor coach ride costs only $7! Indulge in Solvang's famous aebleskiver pastries, enjoy a glass of wine in Los Olivos or make friends with the ostriches in Buellton without the hassle of driving. Bike transportation available. CleanAirExpress.com
12) Experience the excitement, fun and beauty of Los Padres National Forest with Enjoy the Mountain's adrenaline-pumping ATV adventure tour. Roll down the scenic trails of one of California's largest national forests with your own quad ATV or share the experience with a friend aboard a two-passenger quad. Novice and expert ATVers alike can go on memory-making off-road rides, from narrow off-camber thrillers to wide-fire track adventures. EnjoyTheMountain.com
13) Sevtap Winery recently received California Travel Association's prestigious Winery of the Year Award, in recognition of its impact on the wine industry. Producing fewer than 3,000 cases a year, Turkish-born winemaker Ertugrul Sevtap crafts innately simple yet delicious Bordeaux wines, including malbec and cabernet sauvignon, with sparkling wine soon to join the lineup. His Solvang-based tasting room is a fun-loving, celebratory environment with chalkboard walls to draw on, guitars available for impromptu jams and movie nights. SevtapWinery.com
14) Boasting one of the most picturesque and challenging routes in the United States, the Santa Barbara 100 is a world-class cycling event that takes participants through the Central Coast's palm-lined neighborhoods, avocado orchards and cliffy mountains. Head down to Santa Barbara's waterfront on Sat., Oct. 17 and cheer on thousands of cyclists as they take off from Leadbetter Beach. Santa Barbara 100 is a nonprofit organization and donates all event proceeds to local and national charities. SB100.org
15) Whistle Club, an upscale women's boutique and espresso bar, is a bright, cheery store in the heart of Montecito where customers are wowed by a unique selection of women's apparel and accessories. Thoughtfully curated by owner Rebecca McKinney, Whistle Club's inventory includes pieces by emerging designers, industry favorites and local artisans, with an East-meets-West-Coast design sensibility. Stop by the store's new location on Coast Village Road, the only boutique in Santa Barbara where you can enjoy Stumptown coffee while shopping. WhistleClub.com
ABOUT SANTA BARBARA
Voted "Best Beach Town" by Sunset magazine in its inaugural travel awards in May 2015 and one of Condé Nast Traveler's "30 Best Small Cities in America" in its recent Readers' Choice Awards, Santa Barbara is located just 92 miles north of Los Angeles and 332 miles south of San Francisco, on the Pacific coastline. Visitors can arrive via scenic Highway 101, train, bus or by flying into Santa Barbara Municipal Airport (SBA) or Los Angeles International Airport (LAX). For travel and accommodation information and to request a free copy of the official Santa Barbara Visitors Magazine, contact Visit Santa Barbara at (800) 676-1266 or (805) 966-9222, email tourism@santabarbaraca.com or visit SantaBarbaraCA.com. Visitor information is also available at the Visitor Center, 1 Garden St. (at Cabrillo Boulevard).
MEDIA INFORMATION
Stay informed about Santa Barbara news with our Media Center, press releases and blog, TheSBPost.com. Just getting to know Santa Barbara? The Media Field Guide is a great place to start. Planning a research visit? Use the Press Trip Request form to get the process started. Follow us on Facebook and Twitter for daily updates, and visit our Mobile Site for on-the-go information about dining, wine, accommodations, events, attractions and more.