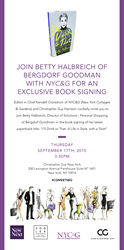 New York, NY (PRWEB) September 16, 2015
Exclusive Book Signing September 17: The stunning true story of Bergdorf Goodman's legendary personal shopper, Betty Halbreich.
Who: Betty Halbreich. Eighty-six-year-old Betty Halbreich is a true original who could have stepped straight out of Stephen Sondheim's repertoire. She has spent nearly forty years as the legendary personal shopper at Bergdorf Goodman, where she works with socialites, stars, and ordinary women off the street. She has helped many find their true selves through fashion, frank advice, and her own brand of wisdom. Betty is trusted by the most discriminating persons—including Hollywood's top stylists—to tell them what looks best.
But Halbreich's personal transformation from cosseted young girl to fearless truth teller is the greatest makeover of her career.
What: What is New/What is Next – an Exclusive Book Signing for Betty Halbreich's book, "I'll Drink to That: A Life in Style, with a Twist."
Join Betty Halbreich, Christopher Guy Harrison, and Kendell Cronstrom (editor in chief of New York Cottages & Gardens) as they converse and share thoughts on style and the world of luxury goods.
Follow us on Twitter: #CGMEETSBG
When: Thursday, September 17, 2015 at 7:30 pm
Where: Christopher Guy New York / 200 Lexington Avenue, Penthouse Suite / New York, NY 10016
For more information about the event, please contact Birgit Müller at birgit.muller(at)christopherguy(dot)com/+1 (323) 332-9520, or email cgpr@brandamb.com.