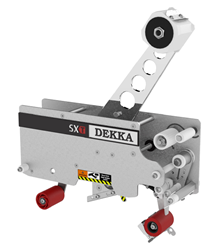 RICHMOND, B.C. (PRWEB) September 17, 2015
DEKKA, powered by Pro Mach, announces a new premium case sealing tape head that creates a unique pull-tab without special tape or added materials to produce secure, easy-open cases. The new DEKKA SX-T eliminates the need for knives or other tools, which are the primary cause of product damage and a significant risk for workplace injury. (Pack Expo Booth C-3123)
The new DEKKA SX-T Tape Head works with a wide range of tapes and uses an innovative, patent-pending design to form a pull-tab at the tail without added material. Cases remain secure for shipping and handling with easy open capabilities at warehouses, retail outlets or other destinations. The SX-T is DEKKA's top-of-the-line tape head and is based on their industry leading SE (Standard Edition) model that is simple to use and well proven for a wide range of consumer goods manufacturers, food processors, and health and beauty companies, among others. The SX-T features DEKKA's "No Break" tape advance, quick load system, and unbeatable tape sealing reliability and efficiency. Tape loading for the SX-T can be accomplished in less than 30 seconds.
"The DEKKA SX-T is unique in the market for its approach in creating easy open cases," said Sander Smith, DEKKA Product Manager. "Most competitive tape heads require special tape or added materials. The SX-T is easier to use and more cost-effective. It is an ideal solution for any manufacturer that needs easy open cases or wants to eliminate knives or tools."
Since 1999, DEKKA has sold and installed thousands of its premium tape heads in a wide range of case sealers. DEKKA's robust, easy to maintain tape heads deliver long lasting reliable performance and real-world practicality to many manufacturing and packaging operations worldwide. DEKKA products are backed by a large aftermarket support and service network.
The DEKKA SX-T will be exhibited at Pack Expo Las Vegas September 28-30, Booth C-3123. At Pack Expo, the SX-T will include the PrintWhiz tape printing system that codes the adhesive side of the tape. This creates a tamper-evident seal, allows product branding, and identification of the pull-tab if desired.
For more information about DEKKA's line of tape head and tape sealing machinery, call 604-278-7881 and visit http://www.DekkaIndustries.com.
About DEKKA
DEKKA, based in Richmond, BC, Canada, is a leading manufacturer of high quality tape head systems. These high quality tape head systems are easy to load, and feature their exclusive no break tape advance system. DEKKA also has a machinery line bringing the same level of quality and reliability from their tape head products to case sealing and erecting machinery. http://www.DekkaIndustries.com.
About Pro Mach
Pro Mach is a leading provider of integrated packaging and processing products and solutions for food, beverage, consumer goods, pharmaceutical, and other diverse companies. Through its brands, Pro Mach provides product packaging and processing equipment, PMMI certified training, installation, parts, and service in Bottling & Capping, Primary Packaging, Flexible Packaging, Material Handling, Labeling & Coding, and End of Line.
Pro Mach has a diverse customer base, from Fortune 500 companies to smaller, privately-held businesses worldwide, which depend on reliable, flexible, technologically advanced equipment and integrated solutions. Pro Mach is headquartered near Cincinnati, Ohio, with manufacturing facilities and offices throughout the United States, Canada, Mexico, and Europe. For more information about Pro Mach, visit http://www.ProMachInc.com.