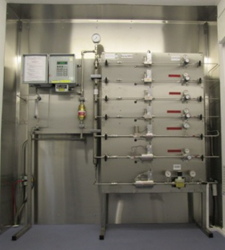 The new system results in less gas usage, thus helping to ensure our testing costs are very competitive, and is just one example of a significant number of investments SGS are making in order to meet customer expectations
Buxton, United Kingdom (PRWEB UK) 21 September 2015
SGS Baseefa has completed the commissioning of a new gas mixing system in its flameproof testing facility in Buxton.
The investment in this new system, allows SGS to maximise throughput in the flameproof testing facility and offer customers the fastest possible Ex d testing and certification service.
Key features of the system are:

Use of computer-controlled mass flow controllers to accurately set the gas mixtures
Ability to flow 500 litres per minute through the system, reducing the time between ignition events
Faster turnaround for larger flameproof equipment, particularly large electric motors
The new system allows faster gas mixture settling times and enclosure filling times. With the increased throughput in the testing cell, we are achieving a much quicker response for our customers.
Adam Crowe, SGS Operations Manager, explained that "the new system results in less gas usage, thus helping to ensure our testing costs are very competitive, and is just one example of a significant number of investments SGS are making in order to meet customer expectations."