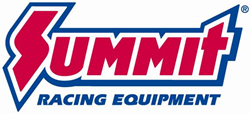 Tallmadge, OH (PRWEB) September 18, 2015
Summit Racing product experts have been busy developing and sourcing new products. They have added over 150 new Summit Racing brand parts and accessories—here are three of the coolest.
Summit Racing Engine Pre-Luber
Most engine wear occurs at cold startup when there is no oil cushion to keep the internal metal bits from grinding into each other. The Summit Racing Engine Pre-Luber is designed to get that oil flowing before startup. That will extend an expensive race engine's life and make starting easier.
The Summit Racing Pre-Luber is easy to use. Simply connect the included hose to the block (after the oil filter), fill the tank with four quarts of oil, and pressurize the tank with up to 100 pounds of air pressure. Features include:

USA-made 2.5 gallon aluminum tank and fittings
120 pound pressure release valve
Non-marring nylon braided hose with swivel fittings on both ends—no need to turn the tank upside down to position it
• 0-200 psi pressure gauge

Full size fill cap, 1.25 in. hole size
Ball valve shut-off valve
Full-depth dip tube
Summit Racing U-Joints
Clunking, clanging, intense vibrations at high speed. Those are pretty good indications that a U-joint has decided to permanently retire from service. Summit Racing U-Joints are the cure. Built to meet or exceed OEM standards, the U-joints feature forged and case-hardened alloy steel crosses for long life. The bearing cups are also case-hardened for strength and durability, and high-quality seals keep contaminants out. Each U-joint has a grease fitting in the cross body for easy maintenance. Available Types: 1310, 1310-WJ, 1344, 1350, 1480-WJ, 1310-to-1330 conversion, 1310-to-1350 conversion
Summit Racing Power Brake Conversion Kits
Upgrading a classic American vehicle to dual circuit power brakes is a smart idea. Many older vehicles relied on a single-circuit braking system for stopping power. It was marginal even back in the day—a system failure meant losing all four brakes.
A Summit Racing Power Brake Conversion Kit gives drivers an extra measure of safety. They feature a cast iron dual reservoir master cylinder. That means if the front or rear brakes go out, the remaining set of brakes will be available to slow the car down.
The conversion kits also include a brand new vacuum booster, mounting hardware, and necessary components like a pedal rod extension.
Applications

1947-72 Chevy/GMC pickup
1955-57 Chevy passenger car
1964.5-66 Mustang, automatic transmission only
Most 1957-72 Ford full size passenger car, F-series pickup
1974-81 Jeep CJ, automatic transmission only
Summit Racing Equipment
SummitRacing.com
1-800-230-3030