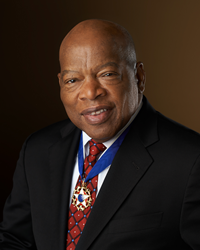 Washington, DC (PRWEB) September 17, 2015
The Honorable John Lewis, U.S. representative for the Fifth Congressional District of Georgia, will deliver the 148th Opening Convocation address on Friday, Sept. 25, at 11a.m. EST in Cramton Auditorium. Lewis is a civil rights icon, and the last living speaker from the 1964 March on Washington rally at the Lincoln Memorial.
The Opening Convocation at Howard is a time-honored tradition, officially signaling the start of the academic year. The ceremony is a welcoming event for new students and an opportunity to recognize recent achievements at the University.
"John Lewis' silent protest walk with other brave citizens over the Edmund Pettus Bridge in 1965 demonstrated his commitment to social justice, which remains steadfast in today's political climate, upholding the standard for future generations," said President Wayne A. I. Frederick. "We look forward to welcoming back Congressman Lewis to campus."
Born on Feb. 21, 1940, the son of a sharecropper outside of Troy, Alabama, Lewis grew up in the segregated South. As a boy, he was inspired to become an activist and join the burgeoning Civil Rights Movement after following news media coverage of historical events, including the Montgomery Bus Boycott and speeches by the Rev. Martin Luther King, Jr. This was the beginning of his rise to civil servant-hood and advocacy for equal opportunity and access for all citizens.
Lewis graduated from Fisk University with a degree in Religion and Philosophy. During his matriculation, he organized sit-in demonstrations at segregated lunch counters in Nashville, Tennessee. He also volunteered to become a Freedom Rider in 1961, during which he suffered multiple assaults and beatings by simply sitting in "whites only" sections of diners. Lewis was a founding member of the Student Nonviolent Coordinating Committee, for which he later served as chairman and facilitated the groundswell of organized student activism within the movement.
He was elected to the Atlanta City Council in 1982, and to Congress in November 1986. Since then he has served diligently as U.S. representative of Georgia's Fifth Congressional District.
Lewis is an internationally revered civil servant, orator, lecturer, historian and author. He received an honorary degree from Howard University in 2002, becoming a true son of Howard and an exemplar of the University's motto, Veritas et Utilitas (truth and service). This is Lewis' second appearance as speaker for Howard's Opening Convocation.
ABOUT HOWARD
Founded in 1867, Howard University is a private, research university that is comprised of 13 schools and colleges. Students pursue studies in more than 120 areas leading to undergraduate, graduate and professional degrees. Since 1998, the University has produced two Rhodes Scholars, two Truman Scholars, a Marshall Scholar, 30 Fulbright Scholars and 11 Pickering Fellows. Howard also produces more on campus African-American Ph.D. recipients than any other university in the United States. For more information on Howard University, call 202-238-2330, or visit the University's Web site at http://www.howard.edu.
###