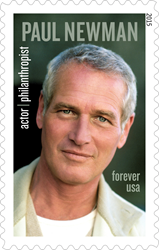 Paul Newman ignited a movement of philanthropy that has positively impacted millions of people around the world. --June Clark, President and CEO/Camp Boggy Creek
Eustis, Florida (PRWEB) September 18, 2015
The United States Postal Service issued a new Forever® Stamp to honor the legacy of actor, philanthropist and SeriousFun Children's Network founder Paul Newman. The stamp will be unveiled at an official First-Day-of-Issue ceremony on September 18th in Cleveland, OH, near Newman's birthplace.
Newman co-founded Camp Boggy Creek in 1996, along with General H. Norman Schwarzkopf and key business and community leaders from throughout Florida. Camp Boggy Creek is one of 30 camps in the SeriousFun Children's Network, an umbrella organization for the world's largest network of camps for children with medical needs. A remarkable human being with an extraordinary vision, Paul dreamed of a special place where children could reach beyond their illnesses, and in his own words, "kick back, relax and raise a little hell."
"Paul Newman ignited a movement of philanthropy that has positively impacted millions of people around the world," said June Clark, President and CEO of Camp Boggy Creek. "From the earliest stages of development, Paul was an integral part of the formation of Boggy Creek. His generosity continues to be an inspiration to our campers and families, supporters, volunteers, Board of Directors and staff. This stamp is a fitting tribute for someone who has done so much good for the children and families in Florida."
Camp Boggy Creek offers camping programs at no cost to children or their families, which are made possible entirely through the support of generous and caring individuals, corporations, foundations, healthcare partners and volunteers. All facilities and programming are skillfully adapted to meet the medical conditions of campers, ensuring that they can participate in activities such as soaring down a zip line, catching a fish for the first time, horseback riding and making s'mores at a campfire with friends.
The stamp's release highlights a year-long celebration of Newman's legacy and Camp Boggy Creek's Happy Camper Campaign during what would have been his 90th birthday. The campaign encourages donations of $90 or more in honor of Paul to help send a child with a serious illness to a week of camp. To honor Paul Newman's legacy and make a donation, please visit http://www.campboggycreek.org/PaulNewman.
Individual Paul Newman Forever® stamps and stamp sheets will be available for purchase at post office locations nationwide as well as online at usps.com on Friday, September 18, 2015.
# # #
About Camp Boggy Creek
Founded in 1996, Camp Boggy Creek is a year-round medical camp for children with serious illnesses. Co-founded by actor/philanthropist Paul Newman and General H. Norman Schwarzkopf, the camp offers week-long summer sessions and family retreat weekends at no charge to the children or families. Located in Eustis, Florida, the 232-acre nonprofit serves children ages 7–16 that have been diagnosed with chronic or life-threatening conditions. The camp is entirely funded by generous donations from individuals, corporations, foundations and healthcare partners. Camp Boggy Creek is a proud member of SeriousFun Children's Network. Learn more by visiting campboggycreek.org.