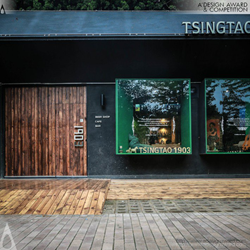 Como, Italy (PRWEB) September 19, 2015
A' Design Award and Competition is pleased to announce that the design project Tsingtao 1903 by Wangtao has been announced as a winner of the Platinum A' Design Award in Interior Space and Exhibition Design Competition Category.
Insights on Tsingtao 1903
Wangtao, the creative mind behind the award winning Interior work Tsingtao 1903 explained "This is the starting point of "Community Pubs Plan" of Tsingtao Beer Company and it is also the very first store. An experiential chain store of beer culture is born and it is low cost, fast to replicate, of unified identity and most importantly it is also environmentally friendly, as almost all of the materials are recycled or reused. "Tsingtao beer" as a brand with more than 100 years history, needs a series of events to reenergize and the followed up design of "Community Pub Plan" is an important component. " Learn more and download high-resolution photos at: https://competition.adesignaward.com/design.php?ID=37436
Design Team for Tsingtao 1903 bar
Tsingtao 1903 bar was made by Wang Tao
The Platinum A' Design Award
The Platinum A' Design Award is a prestigious design award given to top 1% percentile designs that demonstrate an exemplary level of excellence in design. Entries to the A' Design Award & Competition are evaluated by a grand jury panel composed of academics, professional designers, entrepreneurs and media members. Laureates of the A' Design Award & Competition are given the A' Design Prize which includes a series of PR and publicity tools and services such as inclusion in the Best Designers lists to promote the awarded designers.
About A' Design Award and Competitions
Established in 2009 in Italy, the A' Design Award and Competition shortly became the World's largest and most international design accolade with participation from all countries. Given this unique role, the A' Design Awards annually publishes the World Design Rankings. The ultimate aim of the A' Design Award & Competition is to highlight and promote best design projects worldwide in order to create a global appreciation and awareness for good design. Learn more about the A' Design Awards at: http://www.designaward.com