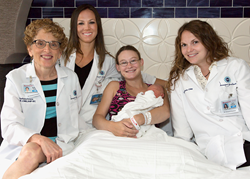 Birmingham, Michigan (PRWEB) September 23, 2015
Women's Excellence in Midwifery now delivers exclusively out of the Karmanos Center for Natural Birth in Royal Oak. The Women's Excellence Midwifery team consists of Renee Snow, Sarah Degnan and Barbara Crone.
Women's Excellence in Midwifery is a specialty area of Women's Excellence for women that desire a personalized natural approach to pregnancy with one on one care. For those women who are seeking a holistic approach to the natural process of birth their midwives may be the option. Specialists in understanding the art of normal labor, the Nurse Midwives of Women's Excellence in Midwifery are able to spend more time in providing prenatal education and arrange support groups to guide patients through the pregnancy process.
Women's Excellence is the most comprehensive obstetric and gynecologic office in Michigan. They also specialize in menopause, weight control, bladder control, endometriosis, robotic surgery, pelvic floor physical therapy, and midwifery services. The knowledgeable, well-trained, compassionate physicians and healthcare providers of Women's Excellence are taking new patients and are conveniently located in four locations throughout southeastern Michigan, Birmingham, Lake Orion, Clarkston and Metamora. For more information, visit http://www.womensexcellence.com