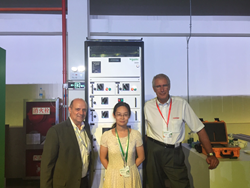 "We are delighted to be working with QHi and their unique Exertherm Thermal Monitoring system. Together with the Okken Evo, they create a world-leading monitoring and protection solution for our Clients." Jean-Luc Zanone (Schneider Okken Marketing Manager)
(PRWEB UK) 24 September 2015
Bad connections remain a significant cause of major power failures, and the only method of detection is the thermal increase created by the bad joint. Until recently, annual thermal inspections were the best technology option, but new IR technology now enables small, plastic, non contact, low cost infrared sensors to be permanently installed inside panels to provide continuous thermal monitoring of critical joints.
Schneider Electric are launching OkkenTM Evo, the new generation of their Okken low voltage equipment for electrical distribution and motor control, incorporating a number of new innovative features, designed to meet the demands of clients in the 21st century.
One of the new key inclusions is Exertherm Continuous Thermal Monitoring, to detect bad joints, which is now offered as a "designed in" standard configuration. China was the first market to launch the new Okken Evo, and a rolling launch in all Schneider and Schneider partner factories globally will continue through 2015/16, for all market segments.
The Exertherm Alarm Relay Module (ARM) system provides a complete solution which monitors 100% of operational time, with facility for both local and remote alarm notification. In addition, it meets the operational demand for a simple, easy to install, cost effective system which just informs when and where a fault is detected, without the need for separate complex software integration etc. For customers requiring a full software integration package, the Exertherm LoadMap® software will also be available.