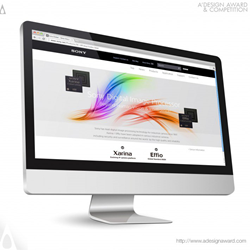 Como, Italy (PRWEB) September 21, 2015
A' Design Award and Competition is pleased to inform that the design project SONY semiconductor branding by Katsumi Tamura has been announced as a winner of the Golden A' Design Award in Advertising, Marketing and Communication Design Competition. Category.
Insights on SONY semiconductor branding
Katsumi Tamura, the project leader of the award winning Advertising project SONY semiconductor branding demonstrated "This is the Sony branding project for semiconductor products for use in security camera applications. The designs for web sites and exhibitions, which are crucial touch points, were completely redone and new images constructed as part of efforts to strengthen customer relations. Full use was made of the functions of color and form, the essential elements of design, to develop graphic elements that express the distinctive features of the product. These elements were deployed as key visuals to provide the inorganic product with its own expressive face, thereby building up a rich world." Learn more: https://competition.adesignaward.com/design.php?ID=38025
Team Members for SONY semiconductor branding
SONY semiconductor branding was imagined by Creative Director: Noriaki Nakao, Creative Director: Emiko Makino, Creative Director: Yoshinori Namiki, Art Director: Katsumi Tamura, Art Director: Takahiro Sugawara and Designer: Takahiro Sugawara
The Golden A' Design Award
The Golden A' Design Award is a prestigious award given to top 3% percentile designs that has attained an exemplary level of greatness in design. Entries to the A' Design Award & Competition are peer reviewed and anonymously voted by an expert jury panel of press members, professional architects and experienced academics. Entries are voted on predetermined evaluation criteria. Laureates of the A' Design Award & Competition are granted a series of PR and publicity services to celebrate the status of winning the accolades. The coveted A' Design Prize includes access to Design Press Kit platform, as well as exclusive invitations to Prime Clubs such as the ICCI - The International Council of Creative Industries. Award winners are further invited to attend the black-tie award ceremony in Italy to collect their trophies, yearbooks and design excellence certificates.
About A' Design Award and Competition
A' Design Award and Competitions was established to create a global awareness for good design practices and principles worldwide by promoting the very best design examples from talented designers, artists, architects and brands from across the globe. A' Design Award & Competition is organized under all creative design disciplines to bring together different partakers in the design industry. The ultimate aim of the A' Design Accolades is to push designers and companies worldwide to come up with superior products and services that would benefit mankind. Learn more about the A' Design Competition at: http://www.designaward.com