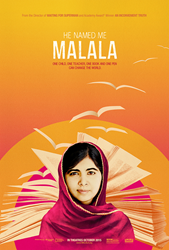 New York, NY (PRWEB) September 22, 2015
The Anne Frank Center USA, in partnership with the Malala Fund, Participant Media and FOX Searchlight, is offering a special, free screening of the new documentary "He Named Me Malala" about activist, student and Nobel Peace Prize Laureate Malala Yousafzai and her fight for education for all girls worldwide. Reserve your seat here.
As a young teenager, Malala Yousafzai was targeted for speaking out on behalf of girls' education in her region of Swat Valley in Pakistan. At age 15 she was shot in the head while on the bus to school with friends, sparking international media outrage. Building on her activism in Pakistan, Yousafzai has since emerged as a leading global campaigner for the educational rights of girls worldwide.
In an effort to inform students about the challenges many of their peers around the world face in gaining access to education, The Anne Frank Center USA and the Students Stand With Malala campaign are offering middle and high school classes in the New York City area FREE tickets to see "He Named Me Malala."
This special opportunity will be held on Friday, October 9 at 4:30 pm at the Landmark Sunshine movie theater at 143 E Houston Street in Manhattan to mark International Day of the Girl.
The screening will be followed by a Q&A with staff from The Anne Frank Center and The Malala Fund, students, and surviving members of the Frank family.
You can reserve your seats here: http://www.brownpapertickets.com/event/2321741
For media inquiries, please contact:
Ashley Nelson
Marketing and Communications Manager
44 Park Place
New York, NY 10007
212-431-7993 ex. 307
anelson(at)annefrank(dot)com
About the Anne Frank Center USA
Founded by Anne's father Otto Frank in 1959, The Anne Frank Center USA uses the diary and spirit of Anne Frank as unique tools to advance her legacy, to educate young people and communities in North America about the dangers of intolerance, antisemitism, racism and discrimination, and to inspire the next generation to build a world based on equal rights and mutual respect.
Through its permanent exhibition, as well as a variety of innovative education programs and exhibitions, the Center uses Anne Frank as a role model for today. Her insights and courage continue to inspire students, educators and citizens more than 70 years after her diary was first published.
Learn more at http://www.annefrank.com, on Facebook at http://www.Facebook.com/AnneFrankCenterUSA, and @AnneFrankCenter on Twitter.