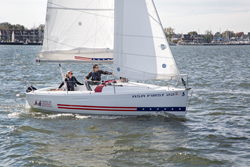 This may be the grandest prize ever awarded at a sailboat show.
Annapolis, Maryland (PRWEB) September 22, 2015
One lucky sailor will win a Beneteau First 22 at the United States Sailboat Show, October 8 - 12, 2015.
Show goers who purchase their tickets online and are eligible to win will be automatically entered. On-site participation will be available during show hours, October 8-12. A random drawing will determine the winner of the grand prize: a Beneteau First 22 Sailboat with a retail value of $29,900.
"This is our grandest prize yet and will add to the excitement of the 2015 United States Sailboat Show," said Paul Jacobs, general manager and president of the Annapolis Boat Shows.
"An astonishing array of activities are slated for this year's show. In addition to premiering sailboats and the largest collection of multihulls anywhere in the world, there will be sailboat lessons on the First 22 and more than 40 courses for cruisers. Plus the America's Cup trophy will be on display Thursday and Friday. There is truly something for everyone," Jacobs added.
The official rules are on the Annapolis Boat Shows website.
United States Sailboat Show
Annapolis City Dock. Maryland
October 8-12, 2015
AnnapolisBoatShows.com
410-268-8828