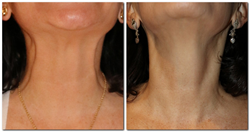 The Nefertiti neck lift is capable of delivering dramatic results for our patients without any need for surgery
Summit, New Jersey (PRWEB) September 22, 2015
Ethos Spa, Skin and Laser Center has today debuted a new, cutting-edge treatment method to improve a patient's jawline while lifting a sagging neck. Called the "Nefertiti" lift in honor of Egypt's famously beautiful queen and her strong jaw, the new treatment is completely nonsurgical.
The new neck lift technique relies on a substance more common for alleviating age lines and wrinkles. Botox is injected and tightens the loose skin around the jawline, removing jowls and creating a healthier, younger, firmer jawline.
"The Nefertiti neck lift is capable of delivering dramatic results for our patients without any need for surgery," stated Dr. Hardik Soni, MD, the company's medical director and owner. "It creates a younger appearance by rolling back the clock on the shape of the face. In fact, the shape of the face itself is more important in creating a youthful look than removing wrinkles or lines."
However, Dr. Soni points out that the Nefertiti neck lift is not an ideal solution for all patients: "This is only effective in patients with vertical neck bands that are visible when someone clenches or bites down. By injecting Botox into these bands, you can relax them, creating a lift." Botox is injected into the platysma, a thin muscle that tightens as the body ages.
The results of the Nefertiti neck lift are roughly equivalent to those achieved through the use of Botox for alleviating age lines and wrinkles. The time required to see results is also comparable, as is the brief recovery time for patients before they can resume their normal activities.
To learn more about the Nefertiti neck lift, how the treatment works, or who makes the ideal candidate, visit http://www.MyEthosSpa.com.
About Ethos Spa, Skin and Laser Center: Ethos Spa, Skin and Laser Center is a practice comprised of physicians, physician assistants and skin care specialists. The practice is committed to providing the latest technology and skin care, and delivers services including laser hair removal, skin resurfacing, chemical peels and injectables, such as Botox.
Contact: Donna Albanese, Spa Director
Name: Ethos Spa, Skin and Laser Center
Phone: 908-273-5400
Email: Info(at)MyEthosSpa(dot)com
Web Address: http://www.MyEthosSpa.com
Source: Hardik Soni, MD