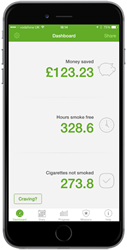 Over 20 different behaviour change techniques are packed into a gorgeous and easy to use tool that helps people through the hardest part of their quit
London, UK (PRWEB) September 23, 2015
Hundreds of thousands of people will try to quit smoking this October in the latest round of the UK's hugely successful Stoptober campaign. The idea behind Stoptober is simple: make it a month without smoking and you're five times more likely to stay quit for good. And it's much easier to get through the first month when you know you're not struggling alone.
Something else proven to help with the difficult first month are the missions found in the top rated and highly popular Smoke Free app. Each morning users are given a mission, a task designed to help them fall out of love with smoking, resist cravings and recast themselves as a proud non-smoker. The missions were tested scientifically and found to increase the odds of quitting by more than 50%, or in other words by about the same amount as nicotine patches or gum.
To celebrate Stoptober the developers are making the missions, as well as the entire suite of features in the Pro version, half price for the first week of October.
Reviews of the app have been overwhelmingly positive. Over 1,800 people have rated it five stars on iTunes alone, with only 35 rating it one star. Not bad considering that recently quit smokers can often be… well let's just say a little irritable. The app has been downloaded over a million times, is used 1.8m times per month, is Healthline's top smoking cessation app of 2015, won best app at UCL's Festival for Digital Health, and has been chosen as one of the Best New Apps in Apple's app store.
The app's popularity doesn't just lie in the success of the missions. The dashboard shows in a beautifully clear and simple way key facts such as how long the user has been smoke free and how much money they've saved. A cravings button allows cravings to be recorded as they happen, after which tips are provided on how to resist them. Each craving can be logged on a map and notes can be added so users can work out where, when and what's going on when cravings happen. Other screens show how health is improving, badges reward people for reaching quit milestones and users can even specify treats to buy themselves with the money they've saved ridding themselves of this deathly habit.
The app is built on solid scientific foundations. Over 20 different behaviour change techniques are packed into a gorgeous and easy to use tool that helps people through the hardest part of their quit. As ex-smokers and scientists the developers know that people will stay smoke free when they understand what they've gained by quitting and when they can see they're making progress. The features and functions in Smoke Free are set-up to deliver this information in as many ways as possible.
Smoke Free is not only built with science, it adds to it too. The developers believe that health apps have a responsibility to give people the best advice possible. So they test their techniques in rigorous scientific trials and publish their findings in peer-reviewed journals. The techniques that work are kept, ones that don't are discarded and the process is repeated. As co-founder David Crane said "This allows us to create an app which continually improves. One whose features are based on evidence about what works. One that will increasingly help more people quit smoking."
Key benefits

Helps people stay smoke free for a month with missions proven to work
Log cravings, get tips on how to manage them and work out the patterns behind them
Twenty established behaviour change techniques packed into a beautifully designed app
Loved by users with the highest ratings of any stop smoking app in the iTunes Store
Constantly testing new techniques to discover the best ways of helping people stop smoking
Key links

About the developers
Smoke Free has been developed by two industry veterans, each of whom have over 20 years' experience building web sites and more recently, apps. Dave is currently undertaking a PhD in app-delivered behaviour change at University College London (UCL). Greg's company Portable Pixels has developed a number of health-related apps and highly popular games.
Their aim is to create the greatest behaviour change company in the world. They believe they can do this by incorporating the best evidence about behaviour change into apps that keep the user experience uppermost. And by using scientific methods to continually improve the effectiveness of these apps.
Dave can be reached at dave(at)smokefreeapp.com and on 07956 292567. Greg can be reached at greg(at)smokefreeapp.com and on 07968 551 609.
They would be delighted to talk more about the app, the science of behaviour change and how our approach may be able to help large numbers of people people lead healthier and happier lives.