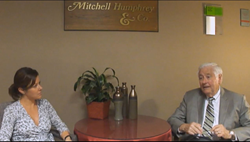 In state after state and city after city, they (regulators) have to go through this very expensive process of assessing just what is going to be the future of the entry into both the limousine and the taxi industry
St. Louis, MO (PRWEB) September 28, 2015
When Beth Humphrey sat down with Dr. Ray Mundy she had some very pointed questions about how regulators are dealing with Transportation Networking Companies, like Uber.
"There is a lot of news about the Vehicle for Hire Industry, it is a very hot topic and a rapidly changing industry," said Beth Humphrey. She asked Dr. Mundy how he would characterize the VFH industry today.
"Right now, I would say that the industry is, sort of, in the after stages of an initial shock," replied Dr. Mundy. "The industry over the years has faced new entrants and it has always been under a regulatory framework. Right now they are faced with unlimited entry into the industry and there is no other way to describe it other than complete deregulation. In state after state and city after city, they (regulators) have to go through this very expensive process of assessing just what is going to be the future of the entry into both the limousine and the taxi industry," he continued.
Dr. Mundy goes on to share his views on whether or not ride sharing operators are technology companies or taxicab companies; what regulators need to do to stay up with the rapidly changing regulatory requirements; where airports fit in to the picture; what is going to happen with all the litigation; and more.
The entire interview can be found here: Humphrey/Mundy Interview
About Mitchell Humphrey & Co.
Mitchell Humphrey & Co. is a leading provider of enterprise applications and cloud solutions, with a reputation for delivering and supporting custom solutions that solve unique requirements. MH&Co., named this year as one of the most promising Microsoft Solution Providers by CIOReview, is a true innovator in the field. They focus on empowering people through the use of Microsoft technologies and connecting government organizations with the people they serve.
More information about MH&Co. (@fasttrackgov) can be found at http://www.mitchellhumphrey.com.