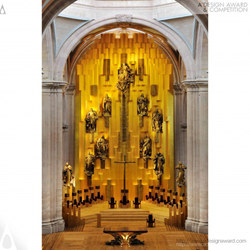 Como, Italy (PRWEB) September 23, 2015
A' Design Award and Competition is pleased to announce that the design project High Altarpiece Zacatecas Cathedral by Gantous Arquitectos has been announced as a winner of the Golden A' Design Award in Cultural Heritage and Culture Industry Design Competition Category.
Details of High Altarpiece Zacatecas Cathedral
Gantous Arquitectos, the creator of the awarded Cultural Heritage project High Altarpiece Zacatecas Cathedral explained "Gantous Arquitectos in collaboration with Mexican sculptor Javier Marín, were the winners of a competition hosted by the State of Zacatecas in 2008 for the design and construction of a high altarpiece for the Zacatecas Cathedral, as well as the complete overhaul of its presbytery. The brief was to create a project which would complement the Cathedral's magnificent 17th century Baroque façade, while balancing the austere neoclassical interiors. The resulting 10 meter wide by 16.7 meter high altarpiece is composed of geometric prisms rising from the highest platform of the ceremonial space. " To learn more visit: https://competition.adesignaward.com/design.php?ID=37255
Project Members for High Altar Zacatecas Cathedral
High Altar Zacatecas Cathedral was designed by Architect: Claudio Gantous, Architect: Christian Gantous, Sculptor: Javier Marin , , David Mayen, Denice Meza, Humberto Picones, Jose Luis Gutierrez and Miguel Vives
The Golden A' Design Award
The Golden A' Design Award is a prestigious award given to top 3% percentile designs that has achieved an exemplary level of quality in design. Entries to the A' Design Award & Competition are peer reviewed and anonymously judged by an expert jury panel of design professionals, press members and academics, following strict evaluation guidelines. Winners of the A' Design Award and Competition are granted a series of PR and Publicity services such as invitation to use the Design Mediators, Design Mega Store or Buy Sell Design platforms as well as invitation to attend the glamorous black-tie award ceremony in Italy. Award winners are also provided the yearbook and a special trophy to remind them of their success. Laureates of the A' Design Awards are also included in World Design Rankings and the World Design Index.
About A' Design Award and Competition
The A' Design Award and Competition is the World's largest design award with participation from all countries. The A' Design Award and Competition aims to create a global awareness and understanding of good design by promoting, recognizing and highlighting the very best design examples from all countries in all design disciplines. The ultimate goal of the A' Design Accolades is to push forward designers and companies to create superior products or projects that benefit society. Learn more about A' Design Awards at http://www.adesignaward.com