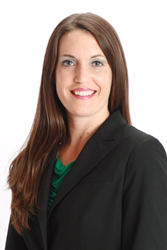 "Jessica's extensive experience will help Axiom Bank to develop our retail banking segment." -- Angelo Palombi, CEO
Maitland, FL (PRWEB) September 23, 2015
Angelo Palombi, Chief Executive Officer of Axiom Bank, a community bank headquartered in Central Florida, announced that Jessica Ludvigsen has joined the bank as Senior Vice President, Retail Banking.
"As Axiom Bank continues to grow, we are always looking for new ways to leverage our resources and the unique opportunities associated with our Retail Banking business segment," Palombi said. "Jessica's extensive experience will help Axiom Bank to develop our retail banking segment."
Prior to joining Axiom Bank, Ludvigsen was employed for 14 years by Woodforest National Bank, where she held positions of increasing responsibility for in-store bank branches. Most recently, Ludvigsen served as Senior Vice President Retail, East Coast Division. She holds a BBA in Finance from Sam Houston State University and is a graduate of the North Carolina School of Banking.
About Axiom Bank
Axiom Bank, headquartered in Central Florida, is a federally chartered community bank that serves the financial needs of its customers through a wide range of financial products. Axiom Bank provides retail banking services, including checking, deposit, and money market accounts, through 20 branch locations, 19 of which are inside select Walmart Supercenters®. Axiom Bank also specializes in commercial loans for both real estate and business purposes, as well as treasury management and other merchant services. In addition to those services, Axiom Bank sponsors prepaid debit card programs offered by third-party program managers. As part of our commitment to exceed our customers' expectations and deliver superior financial solutions, Axiom Bank is constantly working to expand the services and products we provide to the communities we serve. Visit our website at http://www.axiombanking.com. Member FDIC. Equal Housing Lender.