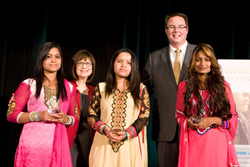 Justice is priceless, and in justice, there must be resolve. That is our job
Costa Mesa, CA (PRWEB) September 23, 2015
On Saturday, September 19, Vanguard University's Global Center for Women and Justice, a faith-based organization that exists to advance the global status of women, hosted The Priceless Luncheon to End Human Trafficking at the Balboa Bay Resort in Newport Beach, Calif. The annual event, chaired by Jasmine Shodja, vice president of Wells Fargo, brought together 350 supporters, businesses, and anti-human trafficking advocates for an inspiring program to honor victims and community members, as well as educate the attendees about the startling issue of human trafficking.
A string quartet played as Orange County supporters mingled and gathered in the ballroom for an afternoon of education on the urgency to end human trafficking. Rachel Thomas, co-founder of Sowers Education Group and a trafficking survivor, told her story of victimization in a captivating video. In a dramatic skit, students from Vanguard University's department of theatre arts told a story of human trafficking survival. Ed Arnold, retired news anchor for KOCE-TV/PBS SoCal, served as emcee.
The "Raise the Paddle" portion of the event was kicked off by an immediate $50,000 donation from the audience. Through sponsorship and donations, over $230,000 was raised in gross for the Global Center for Women and Justice (GCWJ) and for their local and global advocacy and education programs.
"Justice is priceless, and in justice, there must be resolve. That is our job," said Dr. Sandra Morgan, director of Vanguard University's Global Center for Women and Justice and keynote speaker for the luncheon. "We need to educate every teacher, school-based professional, probation officer, healthcare provider, and child welfare worker because this is happening in our own community, and these human trafficking victims have worth and value."
Between standing ovations, Dr. Morgan acknowledged many guests in attendance who are working on the "front lines" to end human trafficking, including GCWJ fellow from the U.S. State Department, Iris Aliaj, an Albanian human rights lawyer who prosecuted the first human trafficking case in her country.
Plus, Vanguard University's Global Center for Women and Justice honored Diamond Award winners. These awards are given to those whose commitments promote justice for human trafficking victims. Orange, Calif.-based Orange County Transportation Authority's Human Trafficking Campaign "Be The One" received the Outstanding Business award, while Los Angeles resident Kyla Smith, director of The Dream Center's Project Hope for Victims of Human Trafficking, won for Outstanding Individual. Human trafficking survivors from New Delhi, India, Pabitra Sunar, Chandrakala Badi, and Devisara Badi were honored with a standing ovation during their acceptance of the Director's Youth Award for their work in advocacy for marginalized women in India. Dr. Morgan honored Betsy Tarbell, a resident of Newport Beach, with a Lifetime Achievement Award for her decades of serving others through The Salvation Army, United Way and Women of Vision.
Major sponsors included Karen and Barry Meguiar, president and CEO of Meguiars, Inc., and Shodja. Also in attendance were Sally and Richard Afable, MD, MPH, president and CEO of Hoag Memorial Hospital Presbyterian, The Bernay & Noone Group at Morgan Stanley financial advisors, Elisabeth Bernay, and Kara Noone, and Nicole Ospina, chair of Marketplace Women of Orange County.
This year's Priceless Luncheon to End Human Trafficking was made possible by the following sponsors: Karen and Barry Meguiar, Jasmine Shodja, Lynsi and Sean Ellingson, Ruth Campbell, Darrellyn and David Melilli, Mary Beth Molnar, Adele and David Oddo, Wells Fargo, Sally and Richard Afable, Gwyn and William Hoyt, Helen Steinkamp, Joanna Barker, Faith and Michael Beals, PhD, Elizabeth Bernay and Kara Noone/The Bernay & Noone Group, Morgan Stanley, Roya Call/Storage Works, Suzanne and Fouad Darweesh, Judy Bergman, Bobbi Dauderman, Donna Phebus, Elizabeth Tarbell, Laurie and Jake Easton, III, First Love Ministries, Karren Hiskey/Hiskey Law Firm, Jaime Saul Hong, Jan Landstrom, Markel Insurance, Carolyn McOwen, The Jesse Miranda Center for Hispanic Leadership, Nicole Ospina/Marketplace Women of Orange County, Rhonda and Nick Sciortino/Successful Survivors Foundation, and Pat and Bill Podlich. The event media sponsor was Orange Coast Magazine.
To learn more about The Global Center for Women and Justice at Vanguard University, visit http://www.vanguard.edu/gcwj
About Vanguard University
Vanguard University (VU) is a regionally ranked, private, Christian university of liberal arts and professional studies. Located ten minutes from Newport Beach and an hour from Los Angeles, Vanguard equips students for a Spirit-empowered life of Christ-centered leadership and service. Vanguard is committed to academic excellence, boasting small class sizes that are designed to cultivate lasting professor-mentor relationships that enhance the learning process. The 2016 U.S. News & World Report ranked Vanguard #13 in the Regional Colleges (West) category, #10 for Best Colleges for Veterans, and #19 for economic diversity. The Princeton Review ranked Vanguard a 2016 "Best in the West" regional college. Accredited by the WASC Senior College and University Commission, Vanguard offers more than 30 degrees and certificates through its undergraduate, graduate, and professional studies programs. Please visit http://www.vanguard.edu
About The Global Center for Women and Justice
The Global Center for Women & Justice at Vanguard University is a faith-based organization that exists to advance the global status of women through research, education, advocacy, collaboration and hope. The Global Center for Women & Justice promotes gender reconciliation and the inherent dignity of all persons. For more, visit http://www.vanguard.edu/gcwj
###