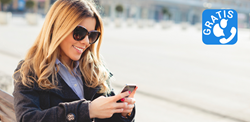 an all-new "Recall" feature – only available from Gratis – actually allows users to retrieve and even delete chat messages, photos and videos they've already sent.
(PRWEB) September 24, 2015
Paris, September 24, 2015
Gratis Labs, a European telecommunications company, today announced that they are launching a new voice/messaging telecommunications system which they claim is unlike anything available from any supplier, anywhere in the world. The new app, called "Gratis," to be launched globally, will combine the best features currently available from suppliers such as Skype™, Viber™ and WhatsApp™, but, according to Gratis Labs, with unrivalled call quality, price plans and messaging options.
Unique "Recall Feature"
To give just one example of the unique functionality of the Gratis app, an all-new "Recall" feature – only available from Gratis – actually allows users to retrieve and even delete chat messages, photos and videos they've already sent. With Gratis, if the message is recalled before the intended recipient has gone online, they will never even know the message was sent. If the recipient is online but doesn't have Gratis open, they will receive a notification saying a message has been received, but if the user has recalled that message, the recipient will never see it. In fact, even if the recipient has already seen the message/photo/video, the Gratis recall feature will remove the message from the device to which the message was sent.
Personalized Appearance
The team at Gratis Labs say their new communications solution is utterly unique. They point to the fact that the app's welcome screen theme, colour and background can be changed using a "Personalized Look" feature.
Gratis Labs are quick to emphasize that regardless of whether your voice calls are to landlines or mobile phones, users will enjoy crystal clear, static-free quality. In addition, anyone who has the Gratis app (which is 100% free to download), will be able to make unlimited free calls to other Gratis users, no matter where they are in the world.
The Gratis app is currently available through the http://www.gratislabs.com website and on Google Play https://play.google.com/store/apps/details?id=com.gratislabs . Gratis are also awaiting on approval from Apple for the iPhone version of the new app, which they say should be with them in the next few days.
Automatic translation of chat messages
Gratis say another feature, unique to their product, is the app's ability to translate chat messages, in real time, in no fewer than 64 languages. Users can enter the chat message in their own language and select in which language they would like the recipient to read that message. Gratis Labs were quick to point out that the Translation Feature would be very useful for both personal and business use.
In the simplest terms, the Gratis app allows users to send and receive text messages, chat messages, photos and videos, all from a single device and with exceptional quality and unrivalled reliability. However, it's the control Gratis customers have over those messages that sets this new app apart from the competition.
For example, if a chat message is really urgent, Gratis will inform the sender if and when the sent message has been read. If necessary, Gratis will allow the user to change the chat message to an SMS text, and the user will instantly know when the text has been read.
Gratis also provides users with more privacy options than any other application. With Gratis, users can control which people in their contacts list can see the user's online status, last seen status or whether or not the user has read incoming messages.
How much does it cost to make calls?
Gratis Labs are adamant that their call plans are the most competitively priced in the world. They have underlined that determination by making all Gratis-to-Gratis calls completely free of charge, with no per-call connection fees. The company also offers both fixed monthly rates (starting at just $1.99 per month for two hours of communication) and "pay as you go-type" top ups. Gratis also offers geographic price plans. For example, for just $1.99 per month, the USA, China, India, Canada, Mexico and Europe Plan covers two hours of calls to both landlines and mobiles in the USA, China, India and Canada, as well as calls to landlines in Mexico and in 27 European counties.
The most comprehensive call plan virtually blankets the globe. Subscribers to the Gratis Global Plan (starting at just $2.99 per month for one hour of communication) can make calls to mobiles and landlines in no fewer than 59 countries. A full list of the plans and packages on offer, plus the countries to which the plans apply, can be found on the Gratis website http://www.gratislabs.com.
About Gratis Labs
Gratis Labs is a relatively new technology company, but the team at the core of the enterprise is made up of telecom and software engineers with decades of combined experience in telecommunications research and development, network integration, network operations and maintenance and large-scale project management.