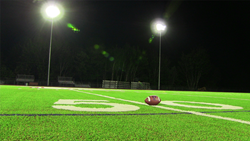 This has been a wonderful project.
Austin, TX (PRWEB) October 02, 2015
Last Friday night marked a special occasion at South Kitsap High School's Kitsap Bank Stadium. The team played their first home game under their new eco-friendly LED lighting system installed by Hellas Construction. This is the third high school stadium in the state of Washington to use LED lighting technology, all of which have been installed this year.
"This has been a wonderful project," said Tom O'Brien, South Kitsap School District's Director of Facilities and Operations. "The light levels are world class. I am extremely happy with the quality of the lights and we're looking forward to the energy savings that LED technology will provide."
The $343,000 project includes the demolition and removal of old light poles and the installation of 42 1000-Watt fixtures that will be reducing energy costs at the stadium by 50-75% (a typical HID light package takes 60 15000-Watt fixtures to achieve the same light level). In addition to energy savings, the LED lights also offer 200,000 hours of life and an "Instant On" functionality, whereas HID lights take an average of 15 minutes to power up.
The LED lights system is the latest addition to the $1.8 million dollar stadium renovation funded by Kitsap Bank and Debbie and Wayne Macomber. The project includes the installation of a new Matrix® Synthetic Turf multi-purpose field with Hellas' exclusive Geo Plus, an all-organic and environmentally friendly infill that enhances playability and reduces field temperatures by up to 40 degrees Fahrenheit. Hellas' Cushdrain® shock pad was also added to increase safety and G-Max. In addition, the project features a resurface of the stadium's old running track with Hellas' epiQ TRACKS® S200 Re-Top.
The community of Port Orchard will have their next opportunity to catch the new light system at Kitsap Bank Stadium on October 9 as the South Kitsap Wolves battle the Bellarmine Prep Lions.
***
About Hellas Construction
Headquartered in Austin, Texas, Hellas Construction is a nationwide contractor with a strong reputation for delivering premium-quality sports construction projects across the United States. Hellas has the ability to custom-manufacture and install its own synthetic surfaces for field sports, running tracks, and tennis courts, by controlling all related operations. For more information, visit hellasconstruction.com or follow them on Twitter and Facebook.
About South Kitsap School District
The South Kitsap School District serves the city of Port Orchard, Washington, and the southern area of Kitsap County. It is the second largest public school district in Kitsap County, Washington and the largest employer in Port Orchard. With a total of sixteen schools, the South Kitsap School District has an enrollment of approximately 10,653. To learn more please visit http://www.skitsap.wednet.edu.